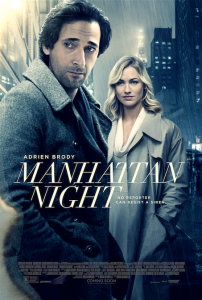 Cast: Adrien Brody, Yvonne Strahovski, Campbell Scott, Jennifer Beals, with Linda Lavin and Steven Berkoff
Written & Directed By: Brian DeCubellis
Based On The Novel By: Colin Harrison
Genre: Thriller
Distributor: Lionsgate Premiere
Adapted from The New York Times' Notable Book of the Year by Colin Harrison, MANHATTAN NIGHT tells the story of Porter Wren (Adrien Brody), a Manhattan tabloid writer with an appetite for scandal. On the beat he sells murder, tragedy and anything that passes for the truth. At home, he is a dedicated husband to his wife (Jennifer Beals) and father. But when Caroline (Yvonne Strahovski), a seductive stranger asks him to dig into the unsolved murder of her filmmaker husband Simon (Campbell Scott), he can't resist. In this modern version of classic film noir, we follow Porter as he is drawn into a very nasty case of sexual obsession and blackmail – one that threatens his job, his marriage, and his life.