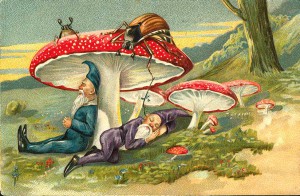 By Kristi O'Toole
I'm not sure how many folks actually believe in leprechauns, but from the time I was a tiny girl and watched the movie, 'Darby O'Gill and The Little People' starring Sean Connery (*swoon*), I totally wanted to believe. From what the movie portrayed and from other articles I've read, these so called "little people" are incredibly powerful. Thus, I have mad respect for those things that can't always be proven, yet know are entirely plausible. I mean, why not?
Naturally when I met my Irish husband and moved to the Emerald Isle to be with him, I found that the lives of the Irish were deeply linked to strange stories about things that could at best be called paranormal. The central characters in these stories were leprechauns, fairies and gnomes. My interest in these 'creatures' was aroused as I was raised in a house where most thing inexplicable was of course paranormal, and all things paranormal were accepted as real and understood.
Stories about 'the little people' with magical powers and the tendency to do mischief, are as old as time itself and have been featured in classics such as Gulliver Travels and the fairy tales of Hans Christian Anderson. Box office hits have been produced around them indicating that the subject holds a never ending attraction for people of all ages. It is interesting to read that the proposed existence of these creatures is not restricted to Ireland, but can be found in 'folk lore' around the world. Greece, the Philippines, Hawaiian Islands, Flores Island, Indonesia and even amongst
Native Americans in the United States to name a few.
Legends speak of the little people playing pranks on humans such as singing and then hiding from those who looked around for the source of music. It was often said that these creatures used music to lead travelers astray in the days before modern transport. Other stories say that if accidentally spotted by someone, they begged the person not to say anything about their existence for a reward (three wishes), which usually consisted of help in times of trouble. There were also unconfirmed reports regarding remains of tiny people discovered in the United States around Montana and Wyoming many years ago.
Almost every child around the world has been raised on stories about tiny people, fairies, pixies and gnomes and sometimes trolls. In our house we use all the above, sometimes these little creatures are good and can do good, but sometimes they can be mischievous and do bad. No childhood would be complete without fairytales and fables of magic and mystery. I've heard certain psychologists insist that telling such tales can harm a child's development and cause illusions in their future. To that I say, "BOOOO!" No chance, children need their imaginations fed and encouraged, why stifle a future writer or designer?
Anyway, avoiding a soap box I'll leave it at that. As for me, I completely open to things that cannot always be seen. Next time I'll discuss why thousands of people are disappearing from national parks.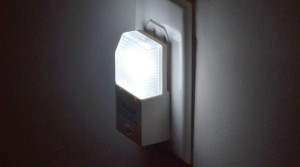 Until then leave the night light burning.
When Kristi isn't writing for NewzBreaker, she writes supernatural suspense novels having three currently published. If you would like to check out any of her books they can be found online and at other major retailers like Books a Million and Amazon. Never one to rest, she also paints/designs shoes and items for the home. Check out her eBay store, Watered Down Vodka and her FB page.
Comments or questions are welcome.