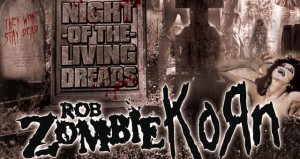 By Kristi O'Toole
It might still be winter, but things are already beginning to heat up as metal and rock's biggest acts are preparing for some of the most exciting tours this summer. Shapeshifters and genre-benders Korn will be teaming up with master of horror Rob Zombie for a run across North America, stopping at 25 cities in total beginning in July.
While this is exciting news in the metal underground, information is still quite limited. What I can tell you are these following cities have been listed so far:
Albuquerque, NM
Austin, TX
Boise, ID
Boston, MA
Bristow, VA
Camden, NJ
Cincinnati, OH
Cleveland, OH
Dallas, TX
Denver, CO
Detroit, MI
Fayetteville, AR
Hartford, CT
Holmdel, NJ
Houston, TX
Indianapolis, IN
Las Vegas, NV
Los Angeles, CA
Phoenix, AZ
Pittsburgh, PA
San Francisco, CA
Seattle, WA
St. Louis, MO
Syracuse, NY
Toronto, ON
Stay tuned for further locations to be announced…
When Kristi isn't writing for NewzBreaker, she writes supernatural suspense novels having three currently published. If you would like to check out any of her books they can be found online and at other major retailers like Books a Million and Amazon. Never one to rest, she also paints/designs shoes and items for the home. Check out her eBay store, Watered Down Vodka and her FB page.
Comments or questions are welcome.