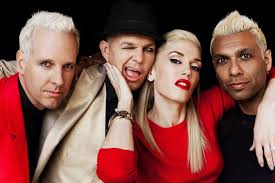 By Kristi O'Toole
AFI singer Davey Havok and No Doubt's Tom Dumont, Tony Kanal and Adrian Young are forming a supergroup, as Billboard reports. The band doesn't have a name or a record label yet, but it has already completed an album.
I would be lying if I said I wasn't a little pumped about this; I ain't no hollaback girl so I'm I'm just putting out there that replacing Stefani is a master stroke by remaining members of No Doubt. I've always thought the Kanal, Young, Dumont rhythm section of No Doubt had a sweet groove together that shouldn't be contained to one genre, and as No Doubt went on they became more and more pigeonholed into current the pop circle. I'm
psyched to see where they go without Stefani's lead.
No Doubt toured throughout 2015, including performances at Chicago's Riot Fest, San Diego's Kaaboo Festival and the Global Citizen 2015 Earth Day Concert. But the latter half of the year, singer Gwen Stefani has made more headlines with her solo work as well as her personal life.
When Kristi isn't writing for NewzBreaker, she writes supernatural suspense novels having three currently published. If you would like to check out any of her books they can be found online and at other major retailers like Books a Million and Amazon. Never one to rest, she also paints/designs shoes and items for the home. Check out her eBay store, Watered Down Vodka and her FB page.
Comments or questions are welcome.