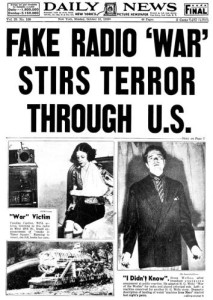 By Chris Benedict
The Mercury Theatre's October 30, 1938 War of the Worlds broadcast was both trick and treat. The perpetrator, star and narrator of F For Fake, speculates in a poignant segment of this-his last completed film-that one day our works in stone, paint, and print-the treasures and frauds alike-will ultimately fall to war or wear away to ash. Despite the fact that our songs will all one day be silenced, he urges us nonetheless to collectively go on singing, proposing that one man's name alone may not matter all that much.
That being said, Orson Welles is a name that very much matters. A professional mischief maker with a penchant for magic and flair for the dramatic, inspired by both William Shakespeare and Harry Houdini, Welles framed the narrative of his own contrived mythology, shrouding the fact and fiction of his personal biography alike in embellishment or outright illusion. He consumed food, wine, women, knowledge, and power in equal measure, with a gluttony which knew no boundaries, disregarded all the rules and held open contempt for authority which challenged his own. A self-manufactured enigma, Welles was many things to many people. A genius, a bully, a friend, a fiend, an open book, a closed fist.
He made himself an easy target for slings and arrows even long before his ample proportions later in life ensured that he was a slow-moving one at that. Orson seemed not only willing but masochistically delighted to hold the bulls-eye up to his own chest and, not content to suffer in silence, remove each barb, snap it cleanly in two and toss it onto the rubbish heap with the rest, all the while sporting that unmistakably deviant smirk as if to say simultaneously "nice try" and "fuck you".
Mercury Theatre on the Air was preparing for a Halloween episode and unsure what source to draw from, as they had just done Dracula four months before. When producer John Houseman approached cast and crew with H.G. Wells' groundbreaking science fiction novel, his suggestion was met with nearly unanimous derision. Even the secretaries and technicians scoffed at the supposedly silly content. No one was more incensed than Welles who thought it was amateur-hour tomfoolery. He stormed the studio upon arrival, cursing the writers and putting on a grand display of self-righteous indignation at having to perform such ridiculous material which he felt was far beneath him and his immeasurable talents. Material which he, of course, would hardly alter and play for all it was worth. And then some.
Herbert George Wells was no stranger to having his work dramatized and bastardized. Island of Dr. Moreau had been mutated by Paramount Pictures into what he felt was a frivolous monster movie called Island of Lost Souls starring Charles Laughton in Wells' title role and Bela Lugosi as the beastly Sayer of the Law. James Whale, in between giving life to the Frankenstein monster in 1931 and his Bride in '35, directed Claude Rains in Wells' The Invisible Man for Universal Studios which had Whale's trademark gallows humor (way too much for Wells' taste) splashed all over it.
His novel The Time Machine made H.G. a household name in his native England and he cemented his legacy with the 1898 publication of The War of the Worlds which follows the account of a devastating Martian invasion from the point of view of the book's protagonist as he travels on foot from his ruined hometown of Weybridge to London and back again.
Paraphrasing the novel's introduction, Orson Welles took to the airwaves on Devil's Night 1938 with the ominous warning of our world being watched by envious eyes belonging to beings of superior intelligence. It bears pointing out that this was preceded by a station identification on behalf of the Columbia Broadcasting System and its affiliated stations which, repeated once more halfway through the program, could not have more clearly alerted listeners to the dramatic intentions of Orson Welles and the Mercury Theatre. The musical stylings of the completely fictional Ramon Raquello Orchestra broadcast from the Meridian Room of New York's Park Plaza Hotel were interrupted periodically by reports of anomalous meteorological disturbances on the surface of Mars which were at first inexplicable to Princeton astronomer Richard Pierson, played by Welles himself.
These breaking bulletins were informed in great part by the recent live reports filed by Edward R. Murrow from Austria and Czechoslovakia during Hitler's annexations. The action switches at the 12-minute mark from the Princeton Observatory to a field transmission by "reporter" Carl Phillips from Grovers Mill, New Jersey where an alien spacecraft evaporates innocent bystanders and members of the state militia with its lethal heat ray. The blood-curdling realism of the scene is due to the fact that Mercury player Frank Readick, who portrayed Carl Phillips, studied and mimicked Herbert Morrison's memorable broadcast of the Hindenburg disaster where he famously wails, "Oh, the humanity!"
The timing of the alien attack was by no means accidental. Mercury Theatre on the Air, sandwiched between Walter Winchell and Jack Benny on CBS and running opposite NBC's #1 rated Chase and Sanborn Hour, was not a particularly popular or well-received program. Its meager listenership actually goes a long way toward explaining how so many people missed out on the practical joke that War of the Worlds was openly intended to be. It was common knowledge that Chase and Sanborn mainstays Edgar Bergen and his beloved dummy Charlie McCarthy would take a break from their shenanigans twelve minutes into the show and allow host Don Ameche to introduce a musical interlude (in this case, the Vagabond Kings), setting forth a huge surge of impatient channel surfing and sending millions of uninitiated and bewildered listeners into the midst of the horrific path of destruction being wrought throughout Grovers Mill, Princeton, Newark, Trenton, the Palisades, and into New York City.
An intermission follows a pregnant pause which greets the frantic pleas of a Ham Radio operator responding to the silenced dispatches by begging the question, "Isn't there anyone on the air? Isn't there anyone?" The effect is still chilling today. The show's second half mirrors H.G. Wells' novel in that Orson Welles' now half-mad Professor Pierson tells his tale of nearly lone survival which leads him into the heart of an eerily deserted Manhattan where he discovers the picked-over remains of the extraterrestrial beings who have succumbed to Earthly bacterial pathogens which their foreign immune systems are incapable of fending off.
By this time, the actual lobby of the CBS building was aswarm with NYPD officers who were as agitated as the station executives demanding that Welles interrupt the program to assure the audience that what they were experiencing was a work of fiction. It was already too late. William Herz, who voiced the broadcast's Newark radio operator, recalls that night being the only time in all the years he worked alongside Welles that he ever saw an expression resembling fear on Orson's face.
What did happen? Pandemonium happened. Ordinarily rational men and women were suddenly divorced from their senses. Few heard the scripted epilogue during which Welles, out of character, alerts listeners to the fact that Mercury's War of the Worlds was intended as no more than the ring of a doorbell on Halloween which, when answered, reveals no caller. CBS and the world at large, both of which they had just gleefully annihilated, were indeed open for business. Switchboards at radio stations and police precincts lit up like so many doorstep jack-o-lanterns and bedlam ensued.
Gloria Widelock, a young New Jersey native in 1938, remembers her father hanging wet dishcloths around the windows to absorb the gases and her mother being unable to get through to her father and sisters in New York so that she could speak to them one last time and say goodbye. Some sought sanctuary in churches, others fell down flights of stairs in their haste to escape into the streets. One hysterical woman was shocked into giving premature birth. A Princeton sociologist recorded actual reactions from that evening which vividly display the frightening levels of psychosomatic hysteria whereby perfectly reasonable people legitimately claimed to have felt like they were choking on-or seen with their own eyes-columns of smoke over the New York City skyline while Martian machines high-stepped down the Palisades. Some uttered the belief that the origin of the invading army was not Martian but German which is interesting given Adolf Hitler's subsequent remarks during a speech in Munich where he bellowed that "it goes to show that the corrupt condition and decadent state of affairs in democracies that The War of the Worlds went over as well as it did."
Any question about whether Welles entertained any anticipatory gut feelings as to the broadcast's potential fallout was put to bed by Orson himself when insisting to his lifelong friend Peter Bogdanovich that he was flabbergasted not by the kind of response his prank engendered, but the scale of it. Welles felt that he was afterwards regarded as a combination of Benedict Arnold and John Wilkes Booth. This sentiment stands in stark contrast to the statement he gave during a Halloween day press conference, expressing in mock contrition that he was surprised by the profound effect of his broadcast upon listeners who should have been familiar with this story and those like it through children's comic strips or adventure stories. Algonquin round table wise-ass Alexander Woolcott wired Welles to beam about how the intelligent people were listening to a dummy (Charlie McCarthy) while the dummies were listening to Orson.
And what of the thoughts and feelings swirling throughout the modestly self-described "very ordinary brain" of H.G. Wells in response to the uproar surrounding a work of his which had been co-opted without his consent? Initially anyway, his reaction was litigious if not outright hostile, promising to level lawsuits against CBS and Orson himself for copyright infringements. Not only did this not come to pass, but Wells' resistance softened and fell away completely as evidenced by a fortuitous meeting of the minds behind War of the Worlds. A tale of two Well(e)s, if you will.
Both Orson and Herbert George happened to be speaking at separate engagements in San Antonio, Texas in October 1940 and were coaxed into sitting on either side of host Charles Shaw in the studios of KTSA radio for a conversation on the 28th, two days away from the controversial broadcast's second anniversary. H.G. opens his remarks by claiming that the highlight of his trip to America thus far had been the opportunity to meet "my little namesake Orson" who in turn responds to the question of dysfunction and disorder stemming from his War of the Worlds program with characteristic jocularity. "What kind of excitement? Mr. H.G. Wells wants to know if it's the same kind of excitement we extract from a practical joke where someone puts a sheet over his head and says 'BOO!' I don't think anyone believes that individual is a ghost, but we do scream and yell and rush down the hall. And what's about what happened."
To which Herbert George offers the sobering rejoinder, "You aren't quite serious in America yet. You haven't got the war right under your chins and the consequences you can still play at, these ideas of terror and conflict. It's a natural thing to do until you're right up against it and then it ceases to be a game."
It wasn't all fun and games for Orson who was labeled a terrorist by FCC Chairman George Henry Payne and forced by CBS to grudgingly accept corporate sponsorship from the Campbell's Soup Company to save his program from the very real threat of cancelation. Welles also allegedly fired a low-level Mercury functionary who was seen purposely and provocatively eating a Mars Bar in his presence. He had mixed feelings about the role War of the Worlds played in his lasting legacy but his misgivings and vexations weakened sufficiently enough over time to allow Orson to assimilate the episode comfortably into his own folklore.
Appearing on the Dean Martin Show, Welles gave his detractors a good-natured poke in the ribs by warning those who no longer laugh at his antics not to blame him when our new masters announce that their conquest of Earth is complete. "Until then," Orson jested, "I remain obediently yours."
Comments or questions are welcome.