Loading ...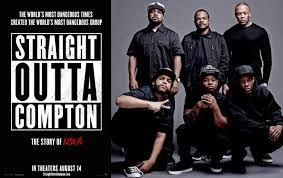 By Debbie Edwards
"You are what you eat". This manner of thinking is widely accepted in today's society. People know that a healthy diet and lifestyle typically yields a healthy life. Conversely, a diet riddled in high fat and sugars, fast foods, and empty calories typically results in health problems, such as diabetes, obesity, and generally poor health.
We accept this fact regarding the things that we put into our bodies, but do we accept this in what we put into our minds? This week, a movie entitled "Straight Outta Compton" topped the box office with a $56.1 million opening. Social media has been buzzing about the movie, and demographics show that the majority of movie goers were under age 30….. and the majority were female. That fact is troubling to me. Why? For more reasons than a few.
Rap music has always had its critics. From the beginning, a group known as NWA, of whom the movie "Straight Outta Compton" is based, has gained its fair share of criticism for its hard core lyrics. When NWA wasn't singing "f* the police", they were singing lyrics that were incredibly disrespectful to women. The rationalization behind such lyrics were that the women conducted themselves as "b*'s and wh*es", so they should not be defended. Perhaps it's the same mindset that lead to charges of domestic violence against one of the group's founding members, Dr. Dre. And while Dr. Dre admitted to making mistakes in those past domestic violence incidents, recent happenings affiliated with the movie make me think otherwise.
The movie was casted last year, and the casting call seemed to be one "Straight Outta the White Supremacist Guide to Beauty". There was a four tier listing, from A-D, and this is how it read:
"A" GIRLS: These are the hottest of the hottest. Models. MUST have real hair- no extensions, very classy looking, great bodies. You can be black, white, Asian, Hispanic, mid eastern, or mixed race too. Age 18-30.
"B" GIRLS: These are fine girls, long natural hair, really nice bodies. Small waists, nice hips. You should be LIGHT-SKINNED. Beyoncé is a prototype here. Age 18-30.
"C" GIRLS: These are African American girls, medium to light skinned with a weave. Age 18-30.
"D" GIRLS: These are African American girls. Poor, not in good shape. Medium to dark skin tone. Character types. Age 18-30.
Notice the trend here? It is called "colorism". It is an internal racism of sorts, much like the era of the Cotton Club, where female performers had to meet a certain color spectrum in order to perform. This restriction was not placed upon male performers, as they were more varied in shade. Regardless of their role in the movie, the sheer fact that women were relegated into these classes with these descriptions screens misogyny to me.
So, if a young girl, in particular, a young black girl sees the stereotypical prototype of this movie, and regularly par takes of this mindset, would it be logical to think that it could affect her self esteem? Furthermore, the casting from A-D based on such character traits as skin tone and hair type/length under the affiliation of men who were accused of misogyny and domestic violence says what about the rehabilitation of a man accused of abusing his mate?
When we see young women "twerking", dressed inappropriately immodestly, or fighting on ratchet videos that make their way through the pages of social media, one of the questions that we need to ask ourselves is "what are they eating?" What are they feeding their minds on? What has affected their self-esteem to the point that they feel that they have to play the role of "b*'s and wh*'es"? Certainly, there is more than one contributing factor, just as there is usually more than one contributing factor to poor physical health. I encourage all parents…. Be careful of what you let your children eat! Our future rides, to some degree, on their ability to sustain themselves and have a healthy sense of self. Otherwise, we will become a society of people who have little to no regard for the lives of others, the qualities of others, and the differences of others.
Eat healthy!