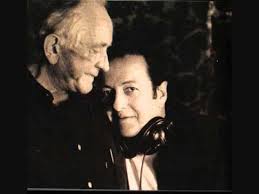 By Chris Benedict

Although the version featuring them both on vocals wouldn't officially surface until the posthumous Unearthed collection, Bob Marley's Redemption Song proves to be a fitting dual farewell from Joe Strummer and Johnny Cash. Well understandable is the global significance placed upon a self-empowering protest anthem written and made famous by a Jamaican Rastafarian who beheld Ethiopian Emperor Halie Selassie as a sort of Christ figure, performed by the quintessential country music outlaw whose poignantly incendiary murder ballads about "mud and blood and beer" torched the falsely sentimental imagery and mythology of the folkloric American west, along with a Turkish-born punk rocker whose musical influences ranged from Woody Guthrie to Lee "Scratch" Perry and fronted arguably the most persuasive British agitators of the Reagan/Thatcher era.
After recording together, neither Cash nor Strummer would live a full calendar year, Joe the victim of sudden heart failure stemming from an undiagnosed congenital defect at the criminally youthful age of 50 a mere nine months before Johnny followed his beloved wife June (who herself passed away in the interim between Strummer and Cash) into the great beyond, suffering from the physical and far more incurable emotional effects of both Diabetes and heartbreak.
Released two months later, that November, was the five-disc treasure trove of Johnny Cash's American recordings, produced by Rick Rubin for his new label replacing (or, at least renaming) the former Def Jam, under the aforementioned title of Unearthed which contained, buried amongst its 79 tracks, Johnny and Joe's post-mortem Redemption Song. Rubin recorded several takes of Strummer and Cash laying down the vocals, first together and then on separate tracks for later overdubs, one of which was a strictly solo version featuring Joe that would appear two months prior to his Unearthed duet with Cash on the Streetcore album, the unfortunately final release of Joe's phenomenal new band the Mescaleros, with whom he had been enjoying a long-overdue career resurgence and well-earned sense of purpose. Rubin, the hirsute producer of Cash, the Beastie Boys, and Slayer approached Mick Jones and Paul Simonon during the Clash's inauguration into the Rock and Roll Hall of Fame about the possibility of adding musical accompaniment to Strummer's vocals to add to the eventual mix and, while Rubin's overture was warmly received by the pair, it was struck down by Joe's widow Lucinda.
Not because of money or animosity. Joe had co-written and co-produced Big Audio Dynamite's No. 10, Upping St. album with Mick, and Jones had joined the Mescaleros onstage for what would be Joe's second-to-last gig at a benefit for striking firefighters at London's Acton Town Hall for a three-song Clash encore of Bankrobber, White Riot, and London's Burning.
The reason given by Lucinda was simply that if that had been Joe's wish, he would have pursued it himself while alive and that an after-the-fact, from-beyond-the-grave "reunion" for the sake of sentimentality would be inappropriate.
The one backup player on Joe's solo acoustic version of Redemption Song (excluding the piano piece, the provider of which Rubin somehow remains uncertain) was Smokey Hormel.
A versatile, multi-talented musician who has recorded and toured throughout his career with the likes of Tom Waits, Beck, Neil Diamond, Norah Jones, and Adele, Smokey was first introduced to Strummer during the session for the apocalyptic title track of Johnny Cash's fourth American album entitled The Man Comes Around. Strummer was, in the literal sense, the man who came around, being that he extended his recreational stay in Los Angeles "just to come every day and be around Johnny", as Rubin recalls. The two versions of Redemption Song would be realized from the benign manifest destiny of Joe's pilgrimage, though its origins date back further than that.
Johnny Cash found himself persona-non-grata in the music industry after his stint with Waylon Jennings, Kris Kristofferson, and Willie Nelson as the Highwaymen in a career which began with an unlikely but ultimately fruitful audition at Sam Phillips' hit-making factory at Nashville's Sun Studios leading to the wildly popular single Cry! Cry! Cry! in 1955, and seemingly terminated after being released from his long-standing contract with Columbia records in 1986, both of which bookended a legendary impromptu recording session with Elvis Presley, Carl Perkins and Jerry Lee Lewis, professional and marital highs and lows with June Carter, his farewell to a girl called Delia and ode to A Boy Named Sue set to raucous bluesy riffs, the riotous prison albums recorded live at Folsom and San Quentin, suicide attempts and drug addiction, sobriety and re-grasping the tendrils of his Christian gospel roots, and The Johnny Cash Show which was faithfully watched as a small boy in Victoria, Australia by future Birthday Party and Bad Seed singer Nick Cave with whom Cash would collaborate on two songs during the American recording sessions, I'm So Lonesome I Could Cry and Cindy.
Cave, whose own fire-and-brimstone murder ballad The Mercy Seat was covered by Cash on the third American collection called Solitary Man, was one of many contemporary songwriters to compose or contribute material for this pet project devised by Rick Rubin to bring the 'Man in Black' out of the shadows and not only introduce a new and unsuspecting generation, but reawaken the slumbering enthusiasm of the previously converted, to a musically stripped-down and emotionally raw sixty-two year-old Johnny Cash.
The most famous of these efforts would prove to be Cash's chilling iteration of Hurt by Nine Inch Nails, which found its way into heavy rotation on FM radio as well as MTV when they once aired music videos rather than vapid reality shows, its startling images of an emaciated, silver-haired Johnny Cash which were tough to take but visually supplemented Trent Reznor's lyrics in a stunning conjoinment of the brutal and the beautiful, the morbid and the noble.
Not to be forgotten or overlooked are Johnny's unique takes on Tom Waits' Down There by the Train, Bird on a Wire by Leonard Cohen, Soundgarden's Rusty Cage, Tom Petty's defiant I Won't Back Down, Depeche Mode's Personal Jesus, One from U2, Desperado by the Eagles and featuring Don Henley on backing vocals, Simon and Garfunkel's Bridge Over Troubled Water and the Beatles' In My Life to name but a select few.
Joe Strummer could not have been more excited about his inclusion in the proceedings, his hero worship of Cash about to transcend into a brief but equitable partnership, although it was evident to the few who witnessed their joint sessions that Joe's reverence of the Man in Black was not to be easily overcome. Rick Rubin remembers Strummer being "the quietest I've ever seen him…like a student in school."
The song that Strummer devoted to Johnny was a new original called Long Shadow. To further illustrate the depth of Joe's boyish exuberance and immediacy of his creative impulses, the lyrics to Long Shadow were submitted by Strummer to Cash and Rubin scrawled on the backside of a grease-stained pizza box lid, almost as if in homage, one might dare to imagine, to Cash's Tear Stained Letter which, incidentally, Johnny re-recorded for The Man Comes Around.
Long Shadow would ultimately be omitted from the first American album, a fact which would naturally not go unnoticed by Strummer who, in an eyewitness story related by Black Flag singer, spoken word performer and History Channel host Henry Rollins, gently and good-naturedly chided Cash following the Man in Black's show at Los Angeles' Pantages Theatre. Johnny sheepishly admitted to not being able to recollect the song, one of countless others set before him, but eagerly encouraged Strummer to sing it to him right there in the crowded VIP area with June Carter Cash, Tom Petty, and a geeked-out Henry looking on, causing Rollins to ask himself in disbelief even then, "Am I about to watch Johnny Cash get serenaded by Joe Strummer acapella?"
The answer was 'yes' and Joe leaned in close to intone his verses to Cash, one of the most telling being "Crawl up the mountain to reach where the eagles fly/Sure you can't glimpse from the mountain top where the soul of the muse might rise", written you have to remember by the disciple for his sovereign. "Joe, that's a damn fine song," Cash said to Strummer, as Rollins tells it. "I'm going to go and find that song, Joe."
Whether he did seek it or indeed find it, Johnny Cash would sadly never record Long Shadow. Joe did, however, and it accompanies his solo rendition of Redemption Song on the Mescaleros' Streetcore album, which hit record stores ten months after Strummer's tragically untimely demise and just six weeks following Cash's departure from the mortal coil of flesh and blood, but not before reflecting on Strummer after his death as "a nice man, a good man, and a good musician."
Not whatsoever an endeavor undertaken from a standpoint of novelty or nostalgia, the American recordings may be indicative of a new and unfortunately final chapter in Johnny Cash's life and career, but more so representative of the best goddamned music the Man in Black ever made, which is saying quite a mouthful for someone who recorded more than 80 albums. They also brought together the country music outlaw and punk rock rebel whose stars collided briefly but brilliantly and (to reference a line from Tear Stained Letter) Cash laments, "got cut off in the middle of our song." Fortunately, both Johnny Cash and Joe Strummer have left behind a musical legacy which will forever cast a considerably long shadow.
Won't you help to sing these songs of freedom?
[si-contact-form form='3′]