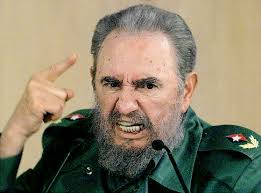 Notorious across the globe as one of the most controversial political figures in history, Cuban ruler Fidel Castro has lived an intriguing life under the watch of millions. From a young revolutionary who overthrew a corrupt dictator using a small guerilla army to being the target for assassination allegedly 600 times, the longevity of Castro's rule and iconic nature has been nothing short of remarkable. Today, Discovery Networks Latin America/U.S. Hispanic (DLA/USH) and American Heroes Channel (AHC) announced a global programming initiative to present CASTRO: THE WORLD'S MOST WATCHED MAN (wt) a one-hour documentary looking at the life of Fidel Castro through the eyes of the spies who have observed him for over a half-century. It will premiere on AHC in 4Q 2015 and on Discovery Networks International's factual channels in more than 220 countries and territories this fall.
"The timely news of Cuba and the U.S. restoring relations, along with Castro's deteriorating health conditions, opens up a momentous opportunity for us to document this iconic and unfolding story," said Kevin Bennett, EVP and general manager of American Heroes Channel. "AHC is dedicated to telling the stories of not just heroes but all of history's most legendary characters, and we are thrilled to partner with Discovery Latin America for a unique, international perspective on one of the world's most infamous leaders."
"Without a doubt, Fidel Castro is a controversial figure who has had an impact on generations of Cubans in and outside the island, as well as many people across Latin America," noted Enrique R. Martínez, President and Managing Director, Discovery Networks Latin America/U.S. Hispanic and Canada. "This original production will deliver a unique perspective into the character of this polemic leader that is bound to spark robust discussions regarding his legacy and place in history."
Revisiting more than 50 years of history and revealing the inner forces that have shaped his leadership, CASTRO: THE WORLD'S MOST WATCHED MAN uncovers a unique perspective on Castro's life as a notorious figure. Throughout the special, viewers are offered unprecedented access to declassified documents, intense recreations and exclusive interviews with spies, KGB agents, CIA analysts, and Cuban exiles who have tracked Castro's movements over the years, sharing intimate details, captivating anecdotes, and psychological insight to better understand the man behind the legend.
Interviewees include:
· Chris Simmons: Senior Counter Intelligence Specialist at the Defence Intelligence Agency. He was a principal figure in most US Counterintelligence successes against Cuba from 1996-2004.
· Brian Latell: Former intelligence officer who began tracking Castro in 1964 for the CIA and the National Intelligence Council
· Peter Kornbluh: Director of the Cuba Documentation Project at the National Security Archive, an organization that monitors the work of US secret services.
· Domingo Amuchástegui: Former head of the Cuban Embassy in Guatemala.
· Nicolai Leonov: Former Senior KGB officer who knew both Fidel and Raul Castro from the earliest days of the Revolution.
· Felix Rodriguez: Former CIA officer involved in the Bay of Pigs invasion and the capture of Che Guevara. Rodriguez was born in Cuba.
· Antonio Veciana: Cuban exile who was head of Anti-Castro movement in Miami Alpha 66 and was involved in several assassination attempts on Fidel Castro.
· Oleg Nechiporenko: Retired Colonel from the KGB, he worked for much of his career at infiltrating the CIA. He also advised Cuban Intelligence officials on spying techniques during the 1970s.
CASTRO: THE WORLD'S MOST WATCHED MAN (wt) is produced by Pacha Films for Discovery Networks Latin America/U.S. Hispanic and American Heroes Channel. For Pacha Films, Luis Del Valle serves as executive producer and William Hicklin as director. For Discovery Networks Latin America/ U.S. Hispanic, Michela Giorelli serves as executive producer. For American Heroes Channel, Max Culhane is executive producer, Sara Kozak is senior vice president of production, Kevin Bennett is general manager, and Henry Schleiff is Group President.