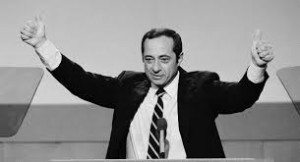 By Bob Price
Mario Cuomo, colorful, controversial, and oft times combative New York political icon, died on New Year's Day at his Manhattan apartment. He was 82 years old. The cause of death was reported as being due to complications from congestive heart failure.
Cuomo served three terms as a Democratic governor during tumultuous times for the state, including two severe recessions, and was several times eyed as a presidential contender, though he never officially threw his hat into the ring.
Born in Queens, NYC in 1932, he at first pursued a career as a professional baseball player, signing on with the Pittsburgh Pirates at the age of 19. However, he was temporarily blinded after being hit in the head by a fastball pitch, after which he never played professionally again.
After graduating from law school and making a name for himself as an aggressive attorney, he was appointed Secretary of State in 1975. He was subsequently elected to the post of Lt. Governor in in 1978, then Governor in 1982.
He was known to both allies and foes as an outstanding orator, giving what many consider to be among the best political speeches of the 20th century.
His son Andrew was elected to the governorship in 2010 and re-elected to a second term in November.