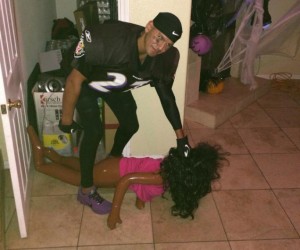 By Andi Goforth
Fall is in the air and it's a welcome, refreshing change from the hot, scorching summer of yesterday. Pumpkin lattes, fall festivals, and football frenzy are in the air. Many are welcoming cooler temperatures and watching the changing of the leaves. Fall is certainly a welcomed change.
However, something else is in the air, and the stench of it threatens to spoil this season's festivities. As many gear up to celebrate Halloween, choosing the perfect costume or pumpkin to carve, mapping out their favorite trick-or-treat route, or scheming to prank friends and family, other traditions are being spun, and, quite frankly, those choosing to participate in this manner are showing a level of maturity lower than that of a unharvested sweet potato.
It's the trend this year for people to select Ray and Janay Rice costumes. Had this choice been made two years ago, not much thought would have been given to it. In fact, It is doubtful that this costume was on anyone's radar. Yet, with Rice's recent suspension from the NFL for domestic violence for pummeling his now-wife Jenay so hard that she laid motionless on a cold elevator floor , this choice takes on a new meaning. To assume a Ray Rice jersey, the same jersey that merchants offered purchasers a refund or exchange for not three months ago, and drag around a lifeless blow-up doll, supposedly Mrs. Rice, is a slap in the face of every domestic violence survivor who ever existed. Mrs. Rice recently directed a tweet towards TMZ. She stated that "it is sad that my suffering amuses others". She is absolutely right. Has our society become so callous towards the feelings and sufferings of others that we are willing to make sport of it? Are we, as a society, so determined to "one-up" others in an attempt to shock or amuse others that we ignore the message that it sends? We are all saddened, as we should be, to have lost 6,488 members of our troops to the wars in Afghanistan and Iraq between the years of 2001 and 2012. Yet the number of American women to have perished at the hands of a former or current male domestic partner was almost double that amount, with 11,766 losing their lives during this same time frame. Would we dare dress as a casualty of these wars? To do so would be unimaginably callous and heartless. Similarly, why would we minimize domestic violence to such a degree that people, in equally poor taste, assume black face, Ravens jersey #27 with "Rice" across the back, and a scantily clad blow up doll supposing to be Janay Rice? Have we become that barbaric, that inhumane, that insensitive, that indifferent to the pain of others?
So, while the air is filled with the flavor of fall, while kids go door-to-door in hopes of getting a treat, let's fill the air with a degree of common sense and decorum. With all of the choices that are out there, some funny, some solemn, some sexy, some ghoulish, remember that they send a message. That message resonates to society our degree of civility and appropriateness that are tolerable. That message separates us from supposed lower forms of life. Hopefully, that message is one that our entire society can be proud of and not one that minimizes an issue that we desire to see erased from our culture.