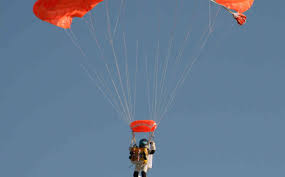 By Bob Price
For the second time in two years, the world's record for skydiving altitude has been broken with a jump and freefall from 135,890 feet, near the very edge of the stratosphere, according to a surprise announcement from the Paragon Space Development Corporation, sponsor of the successful attempt. The previous record of 128,000 feet was achieved in October of 2012.
The new record was accomplished by Google computer scientist and senior executive Alan Eustace, and is the culmination of a secret project that has been under development for several years.
Eustace, 57, launched from Roswell, New Mexico on Oct. 24th tethered to a special high-altitude helium balloon clad only in a newly designed space suit. Previous high-altitude jumps have used a pressurized capsule to provide life support and an extra margin of safety on the long ride to the edge of space.
After releasing himself from the balloon at an altitude of over 25 miles above the Earth, Eustace was on the ground again only 15 minutes later, having achieved freefall speeds of over 800 MPH and causing a sonic boom that was heard by mission technicians on the ground. He made landfall over 70 miles away from his departure point.
The previous record was achieved by Austrian adventurer Felix Baumgartner in a well-publicized attempt sponsored by energy drink maker Red Bull, who invested millions of dollars.
Eustace and Paragon Space Development operated with a relatively paltry budget, using a GoPro camera to record the jump and store-bought radios for communication.
"It was amazing, It was beautiful. You could see the darkness of space and you could see the layers of atmosphere, which I had never seen before" Eustace remarked after his jump.
The jump was intended to test the new space suit and its environmental system, as well as gather data to support the development of a six-place low-orbit capsule on the drawing boards at Paragon Space Development.
The new record was officially verified by James Hayhurst, director of competition for the United States Parachute Association. "I think they're putting a little lookout tower at the edge of space that the common man can share," Hayhurst said.