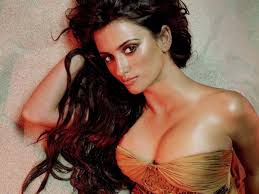 By Anne Goetz
Esquire just released its November issue, gloriously covered in actress, Penelope Cruz. The new Sexiest Woman Alive wears a sleek black swimsuit – sort of – and sports the type of sulky pout that has, throughout history, driven small men to make big mistakes.
The Esquire interview with the Sexiest Woman Alive takes place in Madrid, interspersed with bulls and matadors and talk of foreign languages and mouths that turn down at the corner. Interviewer and interviewee dine together at a restaurant, and Chris Jones – a rather average-looking guy who scored the assignment to talk with the world's sexiest woman – is feeling the heat. He notices everything about the enigmatic actress, from the way she flips her hair to the subtle shifting of her stance – he has to. Otherwise there will be little to write about this once-in-a-lifetime visit with the close-mouthed Cruz.
She doesn't want to talk about the movie she just wrapped, nor the one she's about to begin filming. She doesn't want to talk about her mentor, Pedro Almodovar. She declines to comment on her kids or on her relationship with her husband, Javier Bardem.
She is willing to admit that she enjoys Madrid in August and that she's always hungry. And so goes the interview with Sexy Penelope Cruz, woman of mystery and scant bathing suits and remarkable nonverbal conversation.
We feel your pain, Chris.
NewzBreaker is Now Hiring Entertainment Writers