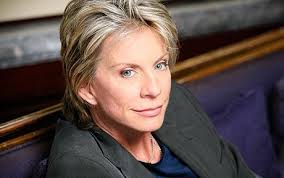 By Anne Goetz
Fans of mystery writer, Patricia Cornwell, are rejoicing over news of her recent television deal with CBS.
Cornwell, who penned famed medical examiner, Kay Scarpetta, to life in her first novel, "Postmortem," recently signed a deal to write an original pilot for CBS. And while the show won't feature Scarpetta or her loyal cohorts Lucy, Benton, or Marino, odds are good the female San Diego detective around which the show is rumored to revolve will at least bear some likeness.
Several of Cornwell's adapted novels have made it to television in the past – "At Risk" and "The Front" in 2010 – but this new project marks the first time she's written a drama specifically for the small screen. And for hardcore fans of Kay Scarpetta, patience is the name of the game. As early as 2010, rumors of a possible Scarpetta movie surfaced, starring none other than the lovely Angelina Jolie. It has yet to take shape, however, much to the chagrin of loyal fans who want nothing more than to see their favorite medical examiner/sleuth immortalized on the silver screen.
NewzBreaker is Now Hiring Entertainment Writers