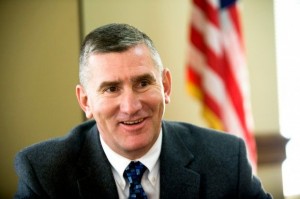 By David Stillwell

Another lying, cheating politician makes the headlines in not just one rag, but within most of them. It seems like a right of passage. The moral decay of the U.S political corps is rank. However, as bad as it is to have lying, cheating politicians it becomes worse when you consider the roles that these people played before they hit the political circuit.
John Walsh was a Colonel in the U.S. Army National Guard an organization that has the motto "Always Ready, Always There." It becomes difficult for me to hold my tongue when a member of such an honorable organization defaces the very image of servings one's country. That service is based on trust and how do "We the People" continue to trust an organization that promotes a liar and thief to the rank of Colonel. This is a mess that muddies many different pools of water.
The problem is this: Senator John Walsh is not the disease, but a mere symptom of a disease that is running rampant throughout the nation. What John Walsh did was plagiarize his way through his Master's program at the Army War College. He would have happily continued his bid for Senator had this not come to light. Those people who we entrust to vital positions continue to be liars and thieves. They stand like beggars with outreached hands asking for corporate "donations" in what would be considered a bribe in any other industry.
Case in point; As reported by the Associated Press; The former Governor of Montana, Brian Schweitzer, sent a letter of support to the Army College review board in a plea that asked that Walsh be judged on his service over three decades in uniform rather than on just the count of plagiarism. A statement that reads that it is okay to lie and steal once, so long as you have an honest background and service record.
Frankly, I have to wonder if this is the first time Mr. Walsh has lied or stole content that did not belong to him. Where does someone with such an honorable and distinguished service record learn to plagiarize? It seems that this could have been the first and only incident where Mr. Walsh lied and stole content. It seems highly unlikely though. People build their tools early in life. He had to know that he was stealing other people's work and claiming it for his own. He had to know that the circumstances under which he would graduate were a lie. He was prepared to live with that lie as Senator of the Unite States of America. He was prepared to live with that lie as he ran for election. He was prepared to present to the American people that he was an honest and caring leader who would hold their values close to his heart. How does one who lies about his accomplishments and who steals the work of others stand before the American people and continue the farce.
The lesson here is not for Mr. Walsh, but for the American people. Trust is earned. Votes should be earned as well.