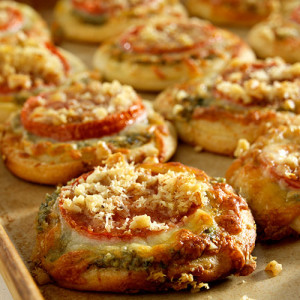 By Kristi O'Toole
Football season is quickly approaching and the smell of blood, sweat, tears and pigskin lingers in the air. You know rightly at some point the boys will be around to cheer on their team while spewing beautiful expletives over your coffee table. Don't get upset, you know you love it. Embrace these moments as time is short. Give the guys a thrill by serving this grown up version of pizza rolls!
Ingredients:
• 2 plum tomatoes
• 1/4 cup (1 oz/50 mL) grated fresh Parmesan cheese
• 1/4 cups (50 mL) walnuts
• 1 pkg (13.8 oz/283 g) refrigerated pizza crust
• 1/3 cup prepared basil pesto or Basil-Walnut Pesto
• 4 oz/125 g grated mozzarella cheese (1 cup/250 mL)
Directions:
Preheat oven to 425°F (220°C). Slice tomatoes using Ultimate Mandoline fitted with v-shaped blade; set aside. Grate Parmesan cheese using Microplane Adjustable Fine Grater. Coarsely chop walnuts using Food Chopper
Combine walnuts and Parmesan cheese in (1 Cup Prep Bowl); mix well.
Place dough onto Cutting Board (do not unroll dough). Using a sawing motion, slice dough into 15 disks (about 1/2 in./1 cm thick) using Utility Knife. Place disks onto Large Bar Pan; lightly press to flatten and seal seams.
Spread 1 tsp (5 mL) pesto over each crust. Top with mozzarella cheese, tomatoes and Parmesan mixture. Bake 12-15 minutes or until crusts are golden brown. Remove pan from oven to Stackable Cooling Rack. Serve using Mini-Serving Spatula.
Kristi stays busy with her writing, shoe designing and Pampered Chef business so she knows how precious time can be; she also knows how important eating healthy and showing your children life beyond fast food can be. The Pampered Chefs Happy Families segment is designed with busy lives in mind. The recipes presented will be fast, easy and affordable to everyone. The tools you need to complete these meals can be found on her personal website.
Comments or questions are welcome.