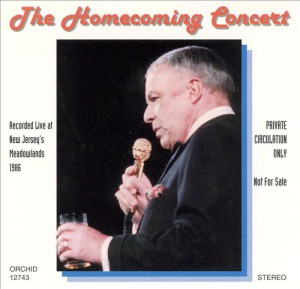 By Jerry Pearce
In the eighteen years that have elapsed since the passing of the Chairman of the Board, the collection by fans of Sinatra-related memorabilia as well as that of his vintage recorded material has not swayed by any means. As the decades have endured, the Sinatra estate has seen fit to release a series of deluxe boxsets and single disc releases to the public that have become treasured listening packages by both Sinatra diehards and casual listeners alike.
The majority of these releases deal with the initial unveiling of live concerts that had remained officially unreleased in the years since their capturing. The Sinatra estate began this trend with the "travelogue" series of boxsets ("Sinatra: Vegas" in 2006, "Sinatra: New York" in 2009, and "Sinatra: London" in 2014) which featured a series of various Sinatra concerts in both CD and DVD form from said locales. These boxsets come complete with colorful softcover booklets featuring stories and trivia surrounding these concert appearances by both the Sinatra family and close associates, comprising an extensive and lavish musical package.
Concord Records also reached a deal with the Sinatra estate to release a March 1986 concert recorded in at the Brenden Byrne Arena in New Jersey. Packaged in a beautiful slipcase with extensive liner notes, "Live at the Meadowlands" was released in 2009.
Sinatra fanatics are well aware that before these concerts were officially released, they only existed as bootlegs, privately recorded copies exchanged for several years on the private circuit. "Live at the Meadowlands" was once known as "The Homecoming Concert," and a copy of said release once fetched a high dollar on many auction sites, as did a copy of Sinatra's 1974 Carnegie Hall Concert (later officially released as Disc Two of "Sinatra: New York.")
While there has been considerable effort in the past few years by the estate in releasing "new" Sinatra material to the public, it is widely known that there are several other concerts that do exist in the canon.
The following list details a series of Sinatra concerts that have either been released overseas (asterisks are provided for these) or exist solely on the private recording circuit, but have not been given a proper official release.
While hundreds and hundreds of Sinatra concerts have been recorded with poor, sometimes inaudible sound (many by audience members with smuggled tape recorders), the following concerts are illuminated due to the superior quality of the source material. It is assumed that some, if not all, were recorded by the Sinatra camp with the intention of a future official release and somehow found their way into the hands of a collector.
We can only hope that the Sinatra estate clears whatever legal wrangling they may be facing in order for the following material to see the light of day.
Indian Summer at the Sands – while a representation of this concert stand has been released, blending several nights together into one singular performance ("The Rat Pack – Live at The Sands"), this bootleg release features the complete first evening performance of Frank, Dean and Sammy at the Sands Hotel's Copa Room in September 1963. The off the cuff nature of this concert recording is something to truly behold.
The 1965 Newport Jazz Festival – Sinatra's classic stand with Count Basie and his Orchestra, directed by Quincy Jones, featuring a blend of tunes from both the second Sinatra-Basie album ("It Might As Well Be Swing") as well as the tunes that would become famous during their stay at the Sands in 1966 and result in the "Sinatra at the Sands" album. Included here are two rarely-performed arrangements of "In The Wee Small Hours of the Morning" and an up-tempo "Call Me Irresponsible."
The Oakland Coliseum Benefit – a booster concert held by Frank after joining the support team for presidential candidate Hubert Humphrey in 1968. Top-notch performances of his recent "All I Need Is The Girl" as well as "I Get A Kick Out Of You" and "Fly Me To The Moon" are on display here.
The Nixon White House Concert* – a 1973 performance, one of Sinatra's first following his first retirement, with Nelson Riddle conducting the United States Marine Band in celebration of a visit by Italian Prime Minister Giulio Andreotti.
The Jerusalem Concert* – a 1975 concert featuring Sinatra with a London-based brass and reed section and Israeli strings. A strong performance of George Harrison's "Something" as well as a rarely-heard Nelson Riddle arrangement of "You Are The Sunshine of My Life" are among the highlights
Live at the Montreal Forum – one of the finest sounding concerts to be recorded from the mid-70s era of Frank's career, featuring a rare live performance of the Billy May arrangement of "Granada" in 1975.
Live at the Westchester Premier Theatre – commonly traded as "The Hungry Years," this disc serves as a representation of Frank's appearances at the Westchester facility in 1976. Performances are taken from several nights, with smash readings of "For Once In My Life," "All By Myself," "I Sing The Songs," and the Neil Sedaka-penned title tune. A bonus alternate version of "The Hungry Years" is also included.
Sinatra in Egypt – Frank's famous outdoor concert in front of the Sphinx and Pyramids in 1979, backed by Vincent Falcone and orchestra.
Sinatra at Resorts International – Sinatra's 1979 appearance at the Atlantic City casino hotel, featuring many live readings of arrangements from his recent "Trilogy" album.
The Reagan White House Concert – a joint concert appearance featuring Sinatra and Perry Como performing in honor of a visit by Italian President Alessandro Pertini and contingent, featuring Frank and Perry backed by a small quartet ensemble in April 1982.
Sinatra in Japan* – an April 1985 concert at the Budokan Hall in Tokyo, featuring Sinatra in superb voice.
The Golden Nugget July 4th Concert – a concert recorded on July 4th, 1986 at the Golden Nugget Atlantic City, featuring a laid back Frank carousing through more than fifteen tunes and being especially engaging with his audience, featuring an array of classic and modern songs.
Live in Italy – Sinatra's classic 1986 concert in Milan, backed by the John Flanagan Orchestra, featuring a rarely-heard (at this period) reading of his 1956 "Night And Day" with original arrangement by Nelson Riddle.
Reunion Arena Dallas – originally heard on the Mutual Broadcasting System in its entirety, selections from this 1987 concert were later plucked and placed as part of the track listing of the 1995 release "Sinatra 80th: Live In Concert."
Bally's Las Vegas – a 1988 appearance at the famed Las Vegas venue, featuring a delightful reading of "You Will Be My Music."
Bally's Atlantic City – a 1988 concert appearance featuring Sammy Davis, JR. as well as special guest Buddy Greco joining with them at the end for "The Lady Is A Tramp."
Desert Springs Classic – Sinatra's concert appearance at his Golf Classic in February 1995. A short program of six songs, but notable as his final singing performance of all time.
Worth mentioning in terms of the private circuit, for a generous compilation of other live tracks collected from various sources over the years, the author additionally recommends a series of discs released by the "Bravura" label throughout the 1990s. Copies can often be found on auction sites, and are well worth the search. They include "Sinatra Saga, Volumes I & II," "Sinatra in the Sixties," "FS After Hours," "Saloon Singer '61," and "Sinatra: A Big Band Session."
We do encourage and appreciate your support and commentary. If there are other concerts of superior quality that are known of but not mentioned here, please feel free to drop us some good news.
Until next time, Sinatra lovers!
Jerry Pearce is an amateur singer in the vein of Frank Sinatra, Perry Como, and Dick Haymes and has released two discs of standards music, Crossroads in 2010, and One Summer Night in 2016. Samples of his music can be heard on his YouTube Channel. To purchase his CDs use the form box below.
Comments or questions are welcome.