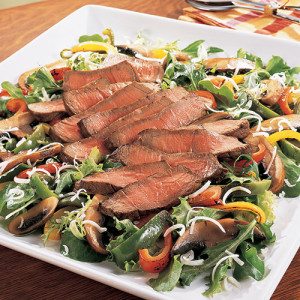 By Kristi O'Toole
Fire up the grill and make this hearty bistro-style meal tonight!
Ingredients:
Steak and Marinade
• 1 boneless beef top loin or top sirloin steak, cut 1 inch thick (about 1 pound)
• ½ cup Italian Dressing

Salad
• 1 each: medium green, red and yellow bell pepper
• 1 package (6 ounces) fresh portobello mushroom caps (3-4 inches in diameter)
• 1/3 cup Italian Dressing
• 1 package (5 ounces) spring mix salad blend of baby greens
• ¼ cup (1 ounce) grated fresh Parmesan cheese
Directions:
Place steak and marinade in resealable plastic food storage bag; turn to coat. Marinate in refrigerator 30 minutes, turning once.
Prepare grill for direct cooking over medium coals. Meanwhile, for salad, cut bell peppers into quarters; remove membranes and seeds. Using Chef's Silicone Basting Brush, brush bell pepper and mushroom caps with dressing. Place vegetables on grid of grill. Grill, uncovered, 6-8 minutes or until crisp-tender, turning once halfway through grilling using BBQ Tongs.
Remove steak from marinade; discard marinade. Grill steak, uncovered, 15-18 minutes or until steak is medium-rare (145°F) to medium (160°F) done, turning occasionally. Carve steak diagonally across the grain into thins slices. Slice vegetables into thin slices.
Arrange greens on platter; top with vegetables and steak. Sprinkle with Parmesan cheese. Serve immediately with additional dressing, if desired.
Kristi stays busy with her writing, shoe designing and Pampered Chef business so she knows how precious time can be; she also knows how important eating healthy and showing your children life beyond fast food can be. The Pampered Chefs Happy Families segment is designed with busy lives in mind. The recipes presented will be fast, easy and affordable to everyone. The tools you need to complete these meals can be found on her personal website.
Comments or questions are welcome.