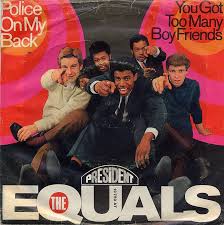 By Ian Murphy
While I certainly like songs that are technically demanding, (such as, well, almost any Queensryche tune) I also (for different reasons) really enjoy simple, straightforward rock and roll. Lately I've been on a big punk kick, digging into classic artists like the Ramones, Social Distortion, and (especially) The Clash. Obviously Joe Strummer, Mick Jones and Co. are much more than loud and raunchy punk rockers, but they are at their best when they just turn up the volume, throw caution and technique to the wind, and just ROCK. A perfect example of this is their 1980 cover of "Police On My Back", originally done by Eddy Grant and the Equals. In this cover, The Clash continue to show how besides being originators and great songwriters, they also interpret songs in a fresh and unique way, a mark of a truly great band.
The Equals' version was a light and poppy ode to being on the run, but The Clash just turned up the dial to ELEVEN. Wailing guitars mimicking police sirens get the party started and continues with our familiar Clash "crunch and stomp" during the verses. The energy in this song is just infectious. Its as if just hearing the drums kick in makes you want to raise your fist and shout "Oi!" Mick Jones's pleading, yet defiant vocals punctuate the delightfully criminal feel to this song. So, if you are feeling particularly rebellious and snarky, hop in your car, roll the windows down, and blast this song at max volume while driving down a quiet and obnoxiously posh road. You'll piss of yuppies and pinheads alike, and make them think to themselves "what have I done? What have I duuu-uhn." Do it!
Comments or questions are welcome.