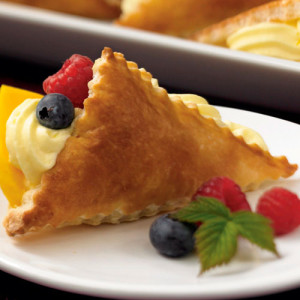 By Kristi O'Toole
Ingredients:
½ pkg (17.3 oz) frozen puff pastry (1 sheet), thawed
• 1 egg, beaten
• ¾ cup milk
• 1 pkg (3.5 oz) lemon instant pudding and pie filling
• 1-2 lemons
• 1 cup thawed frozen whipped topping
• Assorted fresh fruit such as raspberries, blueberries and sliced mango
Directions:
Preheat oven to 425°F. Line Cookie Sheet with Parchment Paper. Unfold pastry onto Cutting Board. Trim edges using Pastry Cutter fitted with fluted wheel. Cut pastry into six 3- x 4-in. rectangles. Cut rectangles in half diagonally for a total of 12 triangles. Place triangles onto Cookie Sheet; brush with egg. Bake 10-12 minutes or until puffed and golden brown. Transfer pastry shells to Stackable Cooling Rack; cool completely.
Meanwhile, for mousse, combine milk and pudding mix in Classic Batter Bowl. Whisk 1-2 minutes or until thickened. Juice lemons using Juicer to measure 1/4 cup juice. Add juice to batter bowl; mix well. Fold in whipped topping and refrigerate until ready to use.
Using a gentle sawing motion, carefully split open pastry shells using Color Coated Tomato Knife(do not cut all the way through). Attach open star tip to Easy Accent® Decorator; fill with mousse. Pipe mousse into pastry shells; fill with fruit.
Kristi stays busy with her writing, shoe designing and Pampered Chef business so she knows how precious time can be; she also knows how important eating healthy and showing your children life beyond fast food can be. The Pampered Chefs Happy Families segment is designed with busy lives in mind. The recipes presented will be fast, easy and affordable to everyone. The tools you need to complete these meals can be found on her personal website.
Comments or questions are welcome.