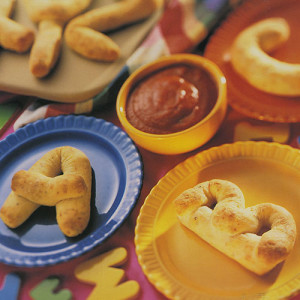 By Kristi O'Toole
Roll them, shape them, bake them, dip them and eat them!!
Ingredients:
2 tablespoons butter or margarine
• 1 ounce fresh Parmesan cheese, grated (1/4 cup)
• 1 package (6.5 ounces) Pizza Crust Mix
• ½ teaspoon dried oregano leaves
• ½ cup hot water
• all-purpose flour
• 1 garlic clove
• 1 can (8 ounces) pizza sauce
Directions:
Preheat oven to 425°F. Place butter in Small Batter Bowl and set aside to soften at room temperature.
Using Rotary Grater, grate Parmesan cheese into Classic Batter Bowl. Stir in pizza crust mix and oregano using Bamboo Spoon.
Add hot water and stir until moistened. Continue to stir vigorously about 25 strokes. Cover Batter Bowl with lid and let stand 5 minutes in a warm place.
Sprinkle a small amount of flour over Cutting Board so the dough doesn't stick. Turn dough out onto cutting board and knead the dough 10-12 times (see Cook's Tip). Divide dough into 8 equal pieces using Pizza Cutter. Using hands, roll each piece into a 10-inch rope.
Shape ropes into letters on Rectangleor Large Round Stone.
Using Garlic Press, press garlic over softened butter in Batter Bowl and mix with bamboo spoon. Spread butter mixture over letters using All-Purpose Spreader. Place Stone on Stackable Cooling Rack.
Bake 11-12 minutes or until golden brown. Using Oven Mitts, remove from oven.
Pour pizza sauce into Small Micro-Cooker®. Microwave on HIGH 1-11/2 minutes or until warm. Serve warm bread sticks with pizza sauce for dipping.
Kristi stays busy with her writing, shoe designing and Pampered Chef business so she knows how precious time can be; she also knows how important eating healthy and showing your children life beyond fast food can be. The Pampered Chefs Happy Families segment is designed with busy lives in mind. The recipes presented will be fast, easy and affordable to everyone. The tools you need to complete these meals can be found on her personal website.
Comments or questions are welcome.