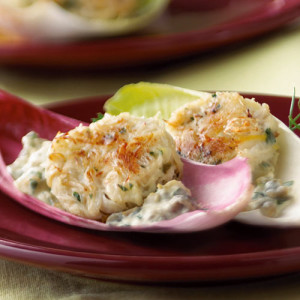 By Kristi O'Toole
Ingredients:
1 lemon
• 1 can (8 oz/250 g) lump crabmeat, drained and patted dry
• 6 tbsp (90 mL) finely chopped fresh fennel, divided
• 1/4 cup (50 mL) finely chopped fresh parsley, divided
• 3 tbsp (45 mL) finely chopped shallot, divided
• 1 tbsp (15 mL) Dijon mustard, divided
• 1/2 cup (125 mL) sour cream, divided
• 1 tbsp (15 mL) all-purpose flour
• 1/2 tsp (2 mL) salt
• 2 tbsp (30 mL) capers, chopped
• 3-4 heads Belgian endive (24 leaves)
Directions:
Zest lemon using Microplane® Adjustable Fine Grater to measure 1⁄2 tsp (2 mL) zest. Juice lemon to measure 2 tsp (10 mL) juice. Combine zest, juice, crab meat, 2 tbsp (30 mL) of the fennel, 2 tbsp (30 mL) of the parsley, 1 tbsp (15 mL) of the shallot, 1 tsp (5 mL) of the mustard, half of the sour cream, flour and salt in Classic Batter Bowl; mix gently.
Using Small Scoop, drop 24 scoops of crab meat mixture onto parchment paper; form into 1-in. (2.5-cm) disks. Spray (12-in./30-cm) Skillet with vegetable oil. Place crab cakes into Skillet; cook over medium heat 4-6 minutes or until golden brown and crisp, turning once. Remove crab cakes from Skillet; drain on paper towels.
Combine remaining fennel, parsley, shallot, mustard, sour cream and capers in Small Batter Bowl. Trim stem ends of endive to measure about 3 1⁄2-4 in. (9-10 cm) long. Spread sauce evenly over endive leaves; top with crab cakes.
Kristi stays busy with her writing, shoe designing and Pampered Chef business so she knows how precious time can be; she also knows how important eating healthy and showing your children life beyond fast food can be. The Pampered Chefs Happy Families segment is designed with busy lives in mind. The recipes presented will be fast, easy and affordable to everyone. The tools you need to complete these meals can be found on her personal website.
Comments or questions are welcome.