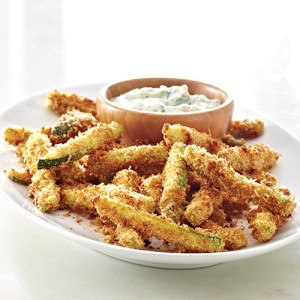 By Kristi O'Toole
Ingredients:
• 1 medium zucchini
• 1 1/2 cups (375 mL) large fat-free seasoned restaurant-style croutons (see Cook's Tip)
• 1 oz (30 g) Parmesan cheese, divided
• 1 egg white
• 1/2 cup (125 mL) nonfat plain yogurt
• 1/2 cup (125 mL) loosely packed fresh basil leaves
• 3 tbsp (45 mL) light mayonnaise
• 2 garlic cloves, peeled
• 1/2 tsp (2 mL) coarsely ground black pepper
Directions:
1. Preheat oven to 450ºF (230ºC). Line Cookie Sheet with Parchment Paper. Trim and discard ends of zucchini; cut in half crosswise using Chef's Knife. Cut each zucchini half using French Fry Cutter (discard any thinner pieces). Place croutons in Manual Food Processor; cover and pump handle until finely chopped. Grate Parmesan cheese with Microplane® Adjustable Fine Grater. Place chopped croutons and half of the Parmesan cheese in Coating Tray; mix well.
2. Whisk egg white in Classic Batter Bowl until frothy. Add zucchini; mix gently until well coated. Dredge zucchini in crouton mixture, pressing firmly to coat. Arrange zucchini in a single layer on Cookie Sheet. Bake 14–16 minutes or until crisp.
3. Meanwhile, for dip, combine remaining Parmesan cheese, yogurt, basil, mayonnaise, garlic and black pepper in clean processor bowl; cover and pump handle until well blended, scraping down sides as necessary. Remove Cookie Sheet from oven to Stackable Cooling Rack. Serve zucchini fries with dip.
Kristi stays busy with her writing, shoe designing and Pampered Chef business so she knows how precious time can be; she also knows how important eating healthy and showing your children life beyond fast food can be. The Pampered Chefs Happy Families segment is designed with busy lives in mind. The recipes presented will be fast, easy and affordable to everyone. The tools you need to complete these meals can be found on her personal website.
Comments or questions are welcome.