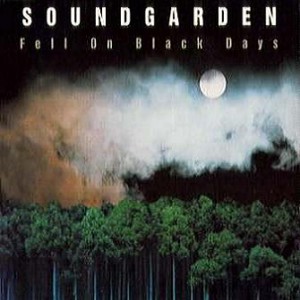 By Ian Murphy
This is a new series dedicated simply to songs that I love. They will come from disparate eras, styles, and genres. I love them all. Some will surprise you, some will make you roll your eyes in the back of your head. I guess if you are smart enough, you'll begin to piece together why I like what I like. So, first on the docket is Soundgarden's classic "Fell on Black Days".
Released in 1994 off of their blockbuster album Superunknown, this track is a moody and at times crushingly heavy ode to the fear that the brightness of good times will inevitably come to an end. The following bout with depression hovers over you like a threatening storm cloud blocking out the sun. Most of us can relate to the dread of this oncoming blackness and how depression can drag and hold us down. Chris Cornell captures this brilliantly with his lyrics and Soundgarden puts a soundtrack to this process of light moving to darkness and despair. They even capture this thrashing struggle musically as the band moves from "smooth yet dark" to massively heavy as if grappling with a crushing weight during the end of the song as Cornell screams "sure don't mind a change". The tune tends with that previous reprise, but it is quieter, more desperate, and sadly subdued. Another black day, indeed.
Comments or questions are welcome.