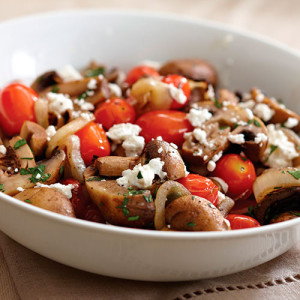 By Kristi O'Toole
Ingredients:
1 lb (450 g) mushrooms, halved
2 medium onions, sliced 1/4 in. (6 mm) thick
1 tbsp (15 mL) olive oil
1 tsp (5 mL) salt
1/4 tsp (1 mL) coarsely ground black pepper
3/4 cup (175 mL) grape tomatoes
2 tbsp (30 mL) lemon juice
1 tbsp (15 mL) chopped parsley
1/4 cup (50 mL) crumbled goat cheese
Directions:
Prepare grill for cooking over medium-high heat. Place BBQ Grill Basket on grill and preheat 3 minutes. In large bowl, combine mushrooms, onions, oil, salt and black pepper; mix well. Add mushroom mixture to basket. Grill, undisturbed, 7 minutes. Shake basket using tongs; grill additional 5 minutes. Add tomatoes to basket; grill 3-4 minutes or until mushrooms are browned and onions begin to caramelize. Remove basket from grill.
Return mushroom mixture to large bowl. Add lemon juice and parsley to mixture; mix well. Pour into serving bowl and top with crumbled goat cheese.
Kristi stays busy with her writing, shoe designing and Pampered Chef business so she knows how precious time can be; she also knows how important eating healthy and showing your children life beyond fast food can be. The Pampered Chefs Happy Families segment is designed with busy lives in mind. The recipes presented will be fast, easy and affordable to everyone. The tools you need to complete these meals can be found on her personal website.
Comments or questions are welcome.