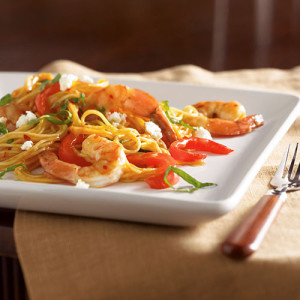 By Kristi O'Toole
This is a super quick and easy meal for any day of the week, especially those nights where you're in late and can't be fussed with a lot.
Ingredients:
24 large uncooked, shell-on shrimp (21-25)
2 tbsp (30 mL) olive oil, divided
4 cups (1000 mL) chicken broth
4 garlic cloves, pressed
1/2 tsp (2 mL) crushed red pepper flakes
1 cup (250 mL) dry white wine such as Chardonnay
1 can (8 oz/250 g) tomato sauce
2 medium red bell peppers, roasted, divided (see Cook's Tips)
1 cup (250 mL) packed fresh basil leaves, divided
12 oz/350 g uncooked angel hair pasta
2 oz/60 g goat cheese, crumbled
Directions:
Remove shrimp from shells (do not discard shells); set shrimp aside. Heat 1 tbsp (15 mL) of the oil in Executive Nonstick Skillet over medium-high heat 1-3 minutes or until shimmering. Add shells; cook 3-4 minutes or until browned. Remove Skillet from heat. Combine shells and broth in Large Micro-Cooker®; microwave, covered, on HIGH 7-8 minutes or until hot. Discard shells; set broth mixture aside.
Meanwhile, heat remaining oil, pressed garlic and pepper flakes in Skillet over medium-high heat 10-20 seconds or until fragrant. Add wine; cook 2-3 minutes or until wine is reduced by half. Add broth mixture and sauce. Reduce heat to medium; simmer 5 minutes.
Slice bell peppers and basil into strips. Add pasta to Skillet. Cook, covered, 1-2 minutes or until pasta begins to soften. Add shrimp, half of the bell peppers and 3/4 cup of the basil to Skillet. Cook, covered, 4-5 minutes or until shrimp are cooked through. Top with remaining bell peppers, basil and cheese.
Kristi stays busy with her writing, shoe designing and Pampered Chef business so she knows how precious time can be; she also knows how important eating healthy and showing your children life beyond fast food can be. The Pampered Chefs Happy Families segment is designed with busy lives in mind. The recipes presented will be fast, easy and affordable to everyone. The tools you need to complete these meals can be found on her personal website.
Comments or questions are welcome.