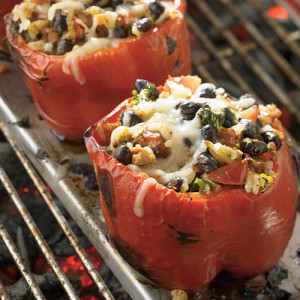 By Kristi O'Toole
There's a fantastic story about stuffed peppers that circulates though our family, in an effort to protect the innocent all I'll say is cook all the ingredients before stuffing them in your peppers.
Ingredients:
4 large red bell peppers
6 oz (175 g) cooked spicy chicken sausage links (2 links)
1 can (15 oz/540 mL) no-salt-added black beans, drained and rinsed
8 oz (250 g) shredded pepper Jack cheese (about 2 cups/500 mL)
4 green onions with tops, thinly sliced
2 garlic cloves, pressed
2 tbsp (30 mL) Southwestern Seasoning Mix
1/2 tsp (2 mL) coarsely ground black pepper
2 small vine-ripened tomatoes, seeded and diced
1 cup (250 mL) plus 2 tbsp (30 mL) cooked long grain white rice (see Grill Master's Tip)
1/2 cup (125 mL) coarsely chopped fresh cilantro
Directions:
Prepare grill for direct cooking over medium heat. Cut tops off peppers. Remove and discard stems and seeds; set peppers aside. Remove and discard casings from sausage links using Utility Knife. Chop sausage using Food Chopper.
Combine sausage, beans, 1 1/2 cups (375 mL) of the cheese, onions, pressed garlic, seasoning mix and black pepper in Stainless (4-qt./4-L) Mixing Bowl; mix well. Gently stir in tomatoes, cooked rice and cilantro. Place bell peppers vertically onto prongs of BBQ Vegetable Rack. Spoon filling evenly into peppers using Medium Scoop.
Place rack on grid of grill. Grill, covered, 20-26 minutes or until filling is heated through and peppers are crisp-tender, carefully rotating rack one time using Silicone Oven Mitt. Top peppers with remaining 1/2 cup (125 mL) cheese. Carefully remove rack from grill. Remove peppers from rack and serve.
Kristi stays busy with her writing, shoe designing and Pampered Chef business so she knows how precious time can be; she also knows how important eating healthy and showing your children life beyond fast food can be. The Pampered Chefs Happy Families segment is designed with busy lives in mind. The recipes presented will be fast, easy and affordable to everyone. The tools you need to complete these meals can be found on her personal website.
Comments or questions are welcome.