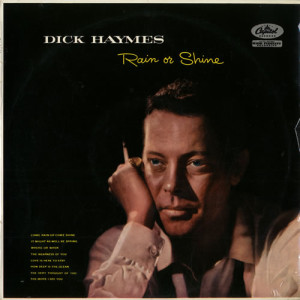 By Jerry Pearce
"Later on, we're gonna buy a Dick Haymes album and see what's wrong with your career!"
The great comedian Don Rickles belted out this line at Frank Sinatra while the Chairman was the host of the 1969 Academy Awards to a barrage of laughs from both Sinatra and the audience. It's a wonder if, through all the laughs, anyone gave a thought to the faded star that was mentioned. He was living throughout the United Kingdom at the time, far from the Hollywood that had made him a household name, trying to escape from mounting debts while attempting to give his family a comfortable way of life. His name was Richard Benjamin Haymes, better known as Dick, and it would probably surprise many that he was, at one time, as large a celebrity as Sinatra.
Dick was born in 1918 to a mother who worked as a singer and vocal coach, and he spent his early years writing song compositions before trying to make a climb up the Tinseltown ladder. He moved to Hollywood in the early 1930s and worked as a bit player and stuntman in several films before first attempting to approach bandleader Harry James in 1940 with his songwriting material. Master trumpeter James, who had just lost his featured vocalist from New Jersey (Sinatra was let go so he could join the Tommy Dorsey Orchestra), was more impressed with the sturdy, polished baritone that Haymes possessed, and hired him on as their "boy singer." Haymes would be featured on several Columbia recordings of the Harry James band, scoring his first chart hits in 1941.
His work with James wouldn't be the last time that Haymes would follow in Sinatra's footsteps. A few years later, after a stint with Benny Goodman and his orchestra, Haymes found himself hired as the replacement for Sinatra in the Tommy Dorsey Orchestra, when Sinatra had decided to strike out on his own for a solo career. Although his time with the band was short in comparison with Sinatra, it helped gain Dick enough of a face with the listening public to help him start his own solo career in 1943, first signed with Decca Records.
Chart success would help propel him upwards in the movie world, and in 1945, Haymes starred in the musical "State Fair" with Dana Andrews and Jeanne Crain, the first motion picture of a seven-year contract Haymes signed with 20th Century Fox.
Although professionally, time would see Dick Haymes mount the showbiz ladder, his personal life would be a constant source of turmoil, and over the years, would take a toll on his singing career. Married and divorced three times by the dawn of the 1950s, Haymes caused a media sensation similar to the Frank Sinatra-Ava Gardner tabloid affair of a few years earlier when he began dating acclaimed actress Rita Hayworth. They would later be married and divorced between 1953 and 1955, the products of a stormy and volatile relationship. The resulting bad publicity, coupled with chronic alcoholism that had begun in his younger days and plagued him until the end of his life, would slowly send his career into the skids.
Strangely enough, it was during this dark period that he recorded his most profound material. Capitol Records had enough faith in Dick's singing to grant him a two-record contract in 1955, Sinatra at the same time in the middle of his career resurrecting comeback. The two albums that resulted, "Moondreams" and "Rain or Shine," are to this day considered two of the finest pop albums ever recorded. Arranged and conducted by Ian Bernard, both albums find Haymes in the musical arrangements of lush swirling ballads and medium tempo rhythm, and they well compliment the silky vocals he displays.
Much like the way Sinatra's "In The Wee Small Hours" was captured during the emotion of pining over the loss of Ava Gardner, Haymes' two albums were recorded as he and Hayworth reached dire straits, and his vulnerability to the situation is quite evident in his readings. Sad as the situation is, it makes for a spectacular listening experience.
Although he would find some success at the dawn of the 1960s with his next wife, singer Fran Jeffries, with a successful duet act in nightclubs and on television, as well as the recording of two new big band albums with Maury Laws and Ralph Burns, true stardom would continue to elude him. With his marriage to Jeffries breaking up near the middle of the decade, Haymes left the United States for Europe. There he met and married his last wife, model Wendy Smith, and would eventually record a new album that would garner interest to many back in America.
The interest would signal a comeback for Haymes as the decades turned again. Returning to the United States in 1972, Dick was featured on several television programs as well as a successful homecoming appearance at the Cocoanut Grove nightclub as the Ambassador in Los Angeles, resulting in a live album ("Dick Haymes Comes Home!"). He would continue to tour frequently throughout the decade, reprising his hits and recording new songs in two studio albums with friend Loonis McGlohan and his group, maintaining a side career as an actor on various television series, as well as making several appearances on public broadcasting specials.
Sadly, the revival of his career would be tragically cut short. Years of cigarette smoking along with his chronic drinking had taken its toll. Dick was diagnosed with lung cancer. The disease would claim him in March of 1980 at the age of 61.
Dick's career today lives on in audio. The major moments of his career have been preserved by the respective companies under which they were recorded. The bulk of his early big band work has been released on CD by Columbia ("The Complete Columbia Recordings"), while Capitol saw fit to creating a fitting tribute to his two classic collaborations with Ian Bernard with the two disc "Capitol Collection," also including some singles he made for the company around the same period.
His two 1950s-60s big band albums with Maury Laws ("Look At Me Now!") and Ralph Burns ("Richard The Lion Hearted") as well as his 1972 live album have also been preserved digitally and are available as downloads across the internet. With respect to the end of his career, Audiophile has made their two titles available on CD as well, and they serve as proof that he maintained the rich quality of his vocals to the end of his life, even as he coasted through multiple periods of triumph and despair. Although the Capitol Records albums should be first on your listening list, all of the releases mentioned are worthy of your attention.
Until next time, Sinatra lovers!
Jerry Pearce is an amateur singer in the vein of Frank Sinatra, Perry Como, and Dick Haymes and has released two discs of standards music, Crossroads in 2010, and One Summer Night in 2016. Samples of his music can be heard on his YouTube Channel. To purchase his CDs use the form box below.
Comments or questions are welcome.