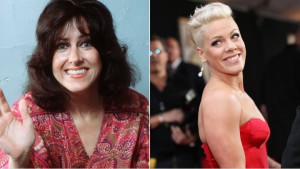 By Kristi O'Toole
When I read where pop star, Pink covered the song that made Grace Slick a household name, 'White Rabbit', I was over like, 'nope'. In my opinion, much like the late great Janis Joplin there is only one Slick, and the thought of her signature tune potentially being butchered burned me up. However, after forcing myself to listen to Pink's cover, not only am I willing to admit she slayed it, but I'm also not ashamed to admit she leftme covered with chills!
Pink did justice to Grace Slick's watery contralto on "White Rabbit." Performing in front of a trippy looking glass backdrop on 'Jimmy Kimmel Live', she nailed the song's subtle Eastern accents, as wah-wah and Latin drum rolls built to a thunderous climax.
"It's good. Pink has the vocal power, which is all I care about," said Slick, 76, when reached at her Los Angeles home. "Over the years, I've heard a lot of versions of the song where singers don't have the attitude or vocal force you need on it. Pink knows how to sing."
Slickster approved and that's all I need.
When Kristi isn't writing for NewzBreaker, she writes supernatural suspense novels having three currently published. If you would like to check out any of her books they can be found online and at other major retailers like Books a Million and Amazon. Never one to rest, she also paints/designs shoes and items for the home. Check out her eBay store, Watered Down Vodka and her FB page.
Comments or questions are welcome.