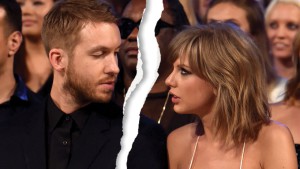 By Kristi O'Toole
Pop star Taylor Swift is well known for many reasons, unfortunately for her one of those reasons are her many failed relationships. For those of you keeping count, dust off your journal and add Calvin Harris to the list. After 15 months together the pair call it quits.
It is thought that Harris, who was involved in a car crash in Los Angeles last month, was the one to call things off. A source revealed: "Taylor's heart was more in it then he was. He started to lose interest over the past few months, but really tried to not just break up." Ouch, poor Taylor.
The news will come as a surprise to the music stars' fans after they were photographed hugging and kissing at recent awards ceremonies and the California festival Coachella. It is believed that Harris also blamed touring and travelling for the breakdown of the relationship. No one else is thought to be involved.
I can hardly wait for Swift to release her new Scottish ballad…
When Kristi isn't writing for NewzBreaker, she writes supernatural suspense novels having three currently published. If you would like to check out any of her books they can be found online and at other major retailers like Books a Million and Amazon. Never one to rest, she also paints/designs shoes and items for the home. Check out her eBay store, Watered Down Vodka and her FB page.
Comments or questions are welcome.