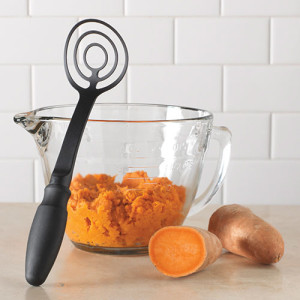 By Kristi O'Toole
What a delicious spin on the sweet potato pie, me oh my!
Ingredients:
5 lbs (2.25 kg) sweet potatoes
1/2 cup (125 mL) butter, divided
1 cup (250 mL) coarsely crushed graham crackers
1 cup (250 mL) coarsely chopped pecan halves
1/2 cup (125 mL) packed brown sugar
1 tsp (5 mL) ground cinnamon
1/2 tsp (2 mL) salt
1/4 tsp (1 mL) ground black pepper
Directions:
Preheat oven to 350°F (180°C).
Peel the sweet potatoes and cut into 2" (5-cm) pieces. Bring large pot of water to a boil. Cook sweet potatoes 10-12 minutes or until very tender. Drain.
Meanwhile, melt 5 tbsp (75 mL) of the butter. Combine melted butter, graham crackers, pecans, brown sugar and cinnamon in small bowl; set aside.
Using Mix 'N Masher, mash sweet potatoes with remaining 3 tbsp (45 mL) of the butter, salt and black pepper. Spoon sweet potato mixture into the Lid of the Covered Roaster; top evenly with pecan mixture. Bake 20-25 minutes or until topping is golden brown.
Kristi stays busy with her writing, shoe designing and Pampered Chef business so she knows how precious time can be; she also knows how important eating healthy and showing your children life beyond fast food can be. The Pampered Chefs Happy Families segment is designed with busy lives in mind. The recipes presented will be fast, easy and affordable to everyone. The tools you need to complete these meals can be found on her personal website.
Comments or questions are welcome.