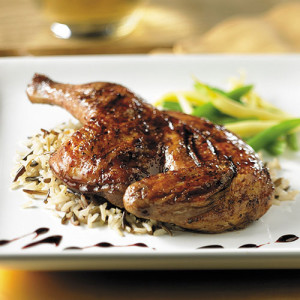 By Kristi O'Toole
I absolutely love Cornish hens because of their versatility, and my kids think the 'tiny turkey's' are super neat. This recipe is so simple and so delicious that anyone could knock it out of the park!
Ingredients:
Pomegranate Glaze
2 cups pomegranate juice
1/4 cup sugar
8 garlic cloves, peeled and quartered
Cornish Hen
1 Cornish hen (1 1⁄4 to 1 1⁄2 pounds)
1 teaspoon olive oil
Salt and coarsely ground black pepper
Directions:
Whisk together pomegranate juice and sugar in (2-qt.) Saucepan; add garlic. Bring to a boil; reduce heat and simmer 50-55 minutes or until liquid reduces to 1⁄2 cup, stirring occasionally. (Stir more frequently as liquid reduces. Final mixture will coat the back of a spoon.) Remove from heat; set aside.
Meanwhile, split hen in half lengthwise; trim excess fat. Rinse with cold water; pat dry with paper towels. Brush hen halves with oil and season with salt and black pepper.
Heat Grill Pan over medium heat 5 minutes. Place hen halves, skin-side down, in pan; top with Grill Press. Cook 10 minutes. Turn; top with press and cook an additional10 minutes or until Pocket Thermometer registers 180°F in meaty part of thigh and juices run clear. Brush with reserved pomegranate glaze; serve immediately.
Kristi stays busy with her writing, shoe designing and Pampered Chef business so she knows how precious time can be; she also knows how important eating healthy and showing your children life beyond fast food can be. The Pampered Chefs Happy Families segment is designed with busy lives in mind. The recipes presented will be fast, easy and affordable to everyone. The tools you need to complete these meals can be found on her personal website.
Check this link out: http://healthnfitnesshops.com/7-proven-benefits-of-pomegranate.html/

Comments or questions are welcome.