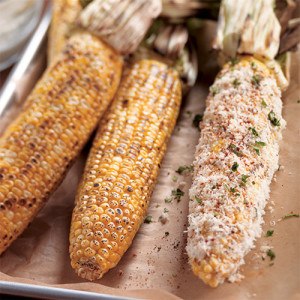 By Kristi O'Toole
Ingredients:
12 ears corn, husks and silk removed
1/2 cup (125 mL) mayonnaise
1 cup (250 mL) finely grated Parmesan cheese, divided
1 tbsp (15 mL) lime juice
1 tsp (5 mL) ground cayenne pepper
1/4 cup (50 mL) snipped fresh cilantro
Directions:
Bring 8 qt. (7.6 L) of water to a boil in Covered Stockpot (12 qt./11.4 L). Trim ends from ears of corn. Carefully add corn to boiling water. Bring water back to a boil; cover, turn off heat and let stand 10-12 minutes. (Corn can be held in Stockpot until ready to serve.)
Meanwhile, in our Small Mixing Bowl, combine mayonnaise, 1/2 cup (125 mL) of the cheese, lime juice and cayenne pepper. Combine remaining cheese and cilantro in shallow dish. Spread about 1 tbsp (15 mL) of the mayonnaise mixture onto each ear. Roll coated corn in cheese and cilantro mixture. Serve immediately.
Kristi stays busy with her writing, shoe designing and Pampered Chef business so she knows how precious time can be; she also knows how important eating healthy and showing your children life beyond fast food can be. The Pampered Chefs Happy Families segment is designed with busy lives in mind. The recipes presented will be fast, easy and affordable to everyone. The tools you need to complete these meals can be found on her personal website.
Comments or questions are welcome.