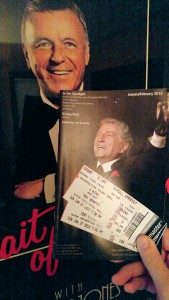 By Jerry Pearce
On January 27th, 2013, I was seated in the next to last row of Prudential Hall at the beautiful New Jersey Performing Arts Center in Newark, New Jersey. Because of a lovely young lady, I was there to receive a belated Christmas gift: seeing Tony Bennett in concert. After an opening by his equally talented singing daughter Antonia, the booming recorded voice of Frank Sinatra emanated through the cavernous auditorium: "This is my man, this cat, and I'm going to say it again, he's the greatest singer in the world, Mr. Tony Bennett!"
Tony took to the stage and performed for no less than an hour. When we thought he was leaving the stage for intermission, he reappeared and yelled to the audience "Should we keep going?!?" The audience whipped into a frenzy and Tony darted back to center stage, carousing through another series of songs associated with his career before ending with his famous "I Left My Heart In San Francisco." All in all, one of the finest concerts I've ever experienced, performed by a man who at that time was nearing eighty-seven years old and yet moved with the strength and vitality of a person much younger.
I enjoy singing quite a bit myself and the man, now approaching the milestone of his ninetieth birthday, sings better than I do at thirty. It's a unique factor of his life that few performers, regardless of age, can lay claim to.
To recreate another biographical sketch of Bennett's life would be futile; he's so well represented in the current public eye that modern audiences know as much about him as they do younger singers who have come to prominence the last decade. From his smash appearance on the MTV Unplugged series, to his series of duet albums with various modern-day artists, all the way to his recent masterful collaboration with musical highness Lady Gaga have kept Bennett current and timely in the face of an ever-changing music business.
We wonder how Bennett could keep his stranglehold on so well in this medium. Business aside, he holds himself true to the advice and boosting that his colleagues would give him over the years, and one of those colleagues undoubtedly, was Frank Sinatra.
Bennett was signed to the Columbia Records in the early 1950s, beginning a long relationship with the label, first assigned to the New York studios and the late producer Mitch Miller, who advised Bennett not to try imitating Sinatra, who was in the midst of leaving the Columbia label. It wasn't long after this happened that Sinatra and Bennett met for the first time across the Hudson River in New Jersey at Bill Miller's Riviera Club. Sinatra has just been signed to Capitol Records and was in the midst of staging his legendary comeback. There was ten years between the two recording stars, but they became fast friends.
Bennett looked up to Sinatra not only as a peer but as trend setter, and it was the advice and endorsement of people like such that helped Bennett along in his career. As the fifties wore on, Bennett was offered the chance to host a television show with his named attached for a summer season. Nervous about appearing in such a production, he turned to Sinatra for advice, who guided him through the predicament with some choice words. Sinatra was there again aiding Bennett after Tony's smash with "I Left My Heart In San Francisco." Bennett, worried that he wouldn't be able to reproduce the success after "San Fran" became such a massive hit, Sinatra again set the younger singer on the straight and narrow: "Just produce. Money follows talent."
It was a few years later in 1965 that Sinatra paid what Tony still considers the biggest compliment of his career. In a special Life magazine article highlighting Sinatra's fiftieth birthday, he was asked in interview what he thought of the current music industry, he responded with a comment about Bennett: "For my money, Tony Bennett is the best singer in the business, the best exponent of a song. He excites me when I watch him. He moves me. He's the singer who gets across what the composer has in mind, and probably a little more."
Sinatra would continue to highlight Bennett in his comments throughout the rest of his performing life, proclaiming Bennett often in concert as the last great saloon singer left singing.
Sinatra was also helpful in keeping his friends in the public eye. In 1977, going through a parting of ways with Columbia, his own record label Improv collapsing, and general ticket and album sales decreasing, coupled with home troubles, Bennett was skating on thin ice. That year, Sinatra invited Bennett to appear on his television special "Sinatra & Friends," doing a solo performance as well as a lively duet with the Chairman himself. Bennett was often quoted that still being held in high regard by figures like Sinatra were among the things that saved him during this time of his life.
In 1988, they performed together in a dual concert at Bally's Grand in Atlantic City. Preserved in both audio and video form, the concert features Frank and Tony at the top of their games, Tony performing first with the Ralph Sharon Trio and then Frank with his orchestra, climaxing in a medley where they would trade each other's hit songs back and forth, culminating with a cool duet of "The Lady Is A Tramp."
Bennett felt it necessary to pay tribute to his friend and mentor in his own concrete ways. First came the production of "Perfectly Frank," an album produced in 1992 that featured Bennett performing a number of torch and saloon songs associated with Sinatra. It was one of only a few Sinatra tribute albums produced BEFORE Sinatra's death, and a listening delight. When Sinatra's untimely passing did occur in 1998, Tony was at the forefront, contributing articles of tribute to Life magazine as well as devoting a good section of his autobiography with respect to Frank, whom he considered one his best friends.
Bennett's appreciation of that long lasting friendship came in 2001 when he and girlfriend Susan Crow opened the Frank Sinatra School of the Arts in New York City. Taking his cue from the charitable side of mentor Sinatra, the school was opened in conjunction with his organization "Exploring The Arts," a non-profit program dedicated to arts education and preservation. Today, it has one of highest graduation rates in the entire city.
With Bennett still well within the public eye, there's no doubt that Tony will go on exposing the tradition of the Great American Songbook to new audiences, as his friend Frank did and aspired him to do, until he can't sing anymore. Given the stature of his voice currently, I highly doubt Bennett will be stopping anytime soon.
Until next time, Sinatra lovers!
Jerry Pearce is an amateur singer in the vein of Frank Sinatra, Perry Como, and Dick Haymes and has released two discs of standards music, Crossroads in 2010, and One Summer Night in 2016. Samples of his music can be heard on his YouTube Channel. To purchase his CDs use the form box below.
Comments or questions are welcome.