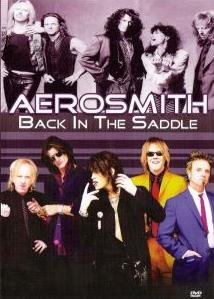 By Ian Murphy
"I'm baaaaack!" Time to take a break from the real heavy stuff and get down to some raunchy and raucous Rock and Roll! Who better than the mighty Aerosmith to kick it off? Wailing guitars, stomping drums and a shriek like a bat out of hell, "Back In the Saddle" is THE quintessential rock song. It's got it all! The band even tried to make it authentic by using a real bullwhip during the intro to get the "crack" just right, and injured themselves in the process. Determination!
In the end, the boys had to settle for using a cap gun, but hey, how rock and roll is that? Besides containing one of the best (and most recognizable) intros in rock history, it also has one hell of a (mega) riff. A rolling, rollicking beast, "Back in the Saddle" might be Joe Perry's best. If you want to get wild and go crazy, turn this one "up to eleven" and ROCK THE EFF OUT!
Comments or questions are welcome.