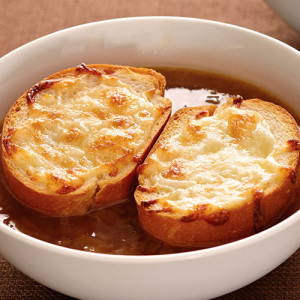 By Kristi O'Toole
Ingredients:
Soup
4 large onions
1/4 cup butter or margarine
2 teaspoons sugar
1/4 cup all-purpose flour
1/2 teaspoon salt
8 cups reduced-sodium beef broth
Salt and ground black pepper to taste
Croutons
8 1-inch-thick French bread slices
1 cup (4 ounces) shredded mozzarella cheese
Directions:
Preheat oven to 400°F. For soup, slice onions using Ultimate Mandoline fitted with v-shaped thick slicing blade. Melt butter over medium heat in Dutch (6-qt.) Oven; add onions and sugar. Cook and stir 15-18 minutes, stirring frequently, until onions are tender and golden brown. Stir in flour and salt. Gradually add beef broth; bring to boil over medium-high heat, stirring frequently. Add salt and black pepper to taste. Cover; reduce heat and simmer 10 minutes.
For croutons, place bread slices on Large Round Stone with Handles; bake 5 minutes or until lightly toasted. Grate cheese using Ultimate Mandoline fitted with grating blade. Turn bread slices over; sprinkle with cheese. Continue baking 5-8 minutes or until cheese is lightly browned and melted.
Ladle soup into bowls; top with croutons.
Kristi stays busy with her writing, shoe designing and Pampered Chef business so she knows how precious time can be; she also knows how important eating healthy and showing your children life beyond fast food can be. The Pampered Chefs Happy Families segment is designed with busy lives in mind. The recipes presented will be fast, easy and affordable to everyone. The tools you need to complete these meals can be found on her personal website.
Comments or questions are welcome.