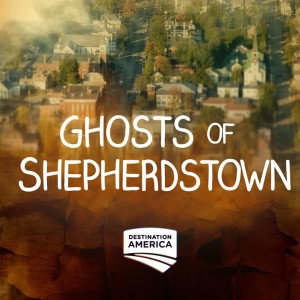 Billed as the most haunted town in America, Shepherdstown, W.Va., is known as much for its ghostly residents as it is for the local arts scene, university, and historic attractions. In a community of 1,750 people, almost everyone has experienced something they couldn't explain, resulting in Shepherdstown's five-man police department responding to a majority of 911 calls where the disturbances are paranormal, not criminal, in nature.
This surge of supernatural activity has forced Sgt. Michael King, now Chief of Police, to enlist the aid of top-notch paranormal investigators to uncover the truth about objects that seem to vanish into thin air, disembodied voices, and faceless figures lurking in the shadows. In Destination America's all-new series GHOSTS OF SHEPHERDSTOWN, cameras follow along as Nick Groff, America's leading paranormal investigator, Bill Hartley, a paranormal tech guru, and Elizabeth Saint, a paranormal sensitive, use their skills to help residents restore peace to their homes and find out why Shepherdstown is such a hotbed for hauntings. The six-part television event GHOSTS OF SHEPHERDSTOWN premieres Sunday, June 12 at 10/9c on Destination America.
"For the first time ever, a paranormal investigation team and a police department have joined forces to investigate strange happenings in an American town, and GHOSTS OF SHEPHERDSTOWN's crew was there to capture every terrifying moment," said Jane Latman, general manager of Destination America. "Our viewers love a good ghost story and have come along with us on investigations of some of the most haunted buildings in America, but Shepherdstown is on a whole other playing field and we're excited for fans to see our real-time, serialized investigation unfold from week to week."
Shepherdstown is renowned for being the oldest town in West Virginia and along with its storied past comes tales of inexplicable hauntings, bizarre accidents and unsolved crimes. Each episode of GHOSTS OF SHEPHERDSTOWN begins with a 911 call from a panicked and frightened resident experiencing unexplainable activity, such as the appearance of a body floating down the Potomac River, a sighting of a headless woman, or a piano playing on its own. After getting a call from Chief King alerting them to the incident, Nick, Bill and Elizabeth head to the scene and complete a full sweep for evidence of ghostly activity, ruling out non-paranormal explanations as they proceed. Once they gather leads, they enlist the help of local historians and psychics to help them in their quest for answers. Along the way, they track and compare clues to determine if there is a trend in these supernatural experiences that could explain the recent awakening of Shepherdstown's spirits.