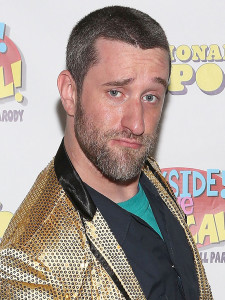 By Kristi O'Toole
Dustin Diamond, who played Screech in the '90s television show Saved by the Bell, is back in a Wisconsin jail on a probation hold, less than two months after serving three months for a Christmas 2014 bar stabbing. The Ozaukee County (Wis.) Sheriff's Office, in a news release Thursday morning, provided little additional information other than that he was booked into the jail at 2:57 p.m. Wednesday.
He was arrested by Saukville, Wis., police, a spokesman for the Wisconsin Department of Corrections said without elaborating. Saukville Police Lt. Robert Meyer confirmed that a corrections official requested the Saukville department's assistance around 2:30 p.m. in taking Diamond into custody and transporting him to the Ozaukee County Jail, but Saukville police are not part of the investigation.
When Kristi isn't writing for NewzBreaker, she writes supernatural suspense novels having three currently published. If you would like to check out any of her books they can be found online and at other major retailers like Books a Million and Amazon. Never one to rest, she also paints/designs shoes and items for the home. Check out her eBay store, Watered Down Vodka and her FB page.
Comments or questions are welcome.