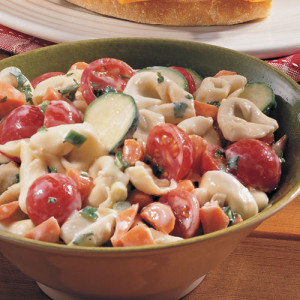 By Kristi O'Toole
Ingredients:
1 package (9 ounces) uncooked refrigerated cheese-filled tortellini
1 medium zucchini, thinly sliced
1 large carrot, peeled and chopped
1 pint cherry tomatoes, halved
4 green onions with tops, thinly sliced
1/4 cup snipped fresh parsley
1/2 cup fat-free ranch dressing
2 tablespoons grated fresh Parmesan cheese
Directions:
Cook tortellini according to package directions in Executive (8-qt./7.6-L) Stockpot; drain and rinse under cold running water. Place tortellini in large Bamboo Fiber Mixing Bowl and set aside.
Meanwhile, slice zucchini using Ultimate Mandoline fitted with v-shaped blade. Chop carrot using Food Chopper. Cut cherry tomatoes in half and slice green onions. Snip parsley using Professional Shears.
Add vegetables to tortellini. Pour salad dressing over salad. Grate Parmesan cheese over salad using Rotary Grater; mix gently. Cover; refrigerate at least 2 hours before serving.
Kristi stays busy with her writing, shoe designing and Pampered Chef business so she knows how precious time can be; she also knows how important eating healthy and showing your children life beyond fast food can be. The Pampered Chefs Happy Families segment is designed with busy lives in mind. The recipes presented will be fast, easy and affordable to everyone. The tools you need to complete these meals can be found on her personal website.
Comments or questions are welcome.