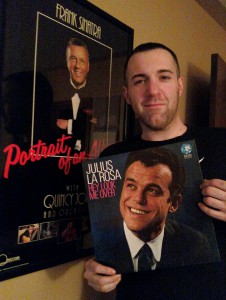 By Jerry Pearce
When we think of famous singers of standards that emerged and endured from the 1950s onward, two names automatically spring to the average lover of music: Frank Sinatra and Tony Bennett. While these two legendary singers are undoubtedly at the top of their field, there was a bevy of other pop standard singers that followed them throughout this decade, a high-class group of accomplished vocalists that included (in no order in terms of greatness) Dick Haymes, David Allyn, Al Martino, Johnny Holiday, Jimmy Roselli, Johnny Hartman, and Jackie Paris.
While all of these singers enjoyed immense popularity as headliners and record makers in their own right, it's debatable as to whether they ever achieved the level of popularity that the two "leaders" would surmount. There was another singer (who always cited Sinatra as his influence) amongst this group whose rich baritone voice had a quality and style all unto its own, his voice and career sustained well into his seventies. His name was Julius LaRosa, and we lost him two weeks ago at the age of eighty-six.
LaRosa was born in New York in 1930, and aspired to become a vocalist throughout his school years, devoting his spare time to music-related activities and choral groups. In 1949, LaRosa joined the Navy, and while stationed in Pensacola, Florida, popular CBS star Arthur Godfrey heard him perform by chance. He was invited to visit Godfrey's show company after his time in the service, and after being discharged in 1951, he did just that.
Julius soon became a popular fixture on the Arthur Godfrey CBS show, and was soon signed with Cadence Records, where he would record a number of compositions, among them the hit songs "Anywhere I Wander" and "Eh, Cumpari," a popular tune sung in Italian that would become one of his trademark performances and a staple in the Italian-American sub-genre of music (a group that also included Dean Martin, Louis Prima, Lou Monte and Jerry Vale).
Soon enough, LaRosa's popularity eclipsed that of Godfrey, and the latter, known for a somewhat hair-trigger temper and bitter streak, used that as part of his incentive to fire Julius in 1953. A media scandal as to the reasons behind the firing soon erupted, tarnishing Godfrey's name and helping to catapult Julius to even greater success.
Substituting as host in 1955 for Perry Como on Como's hit television show, LaRosa soon became a popular face as a solo act, hosting his own television show in the late 1950s with a steady succession of albums to follow throughout the 1960s and 1970s on various record labels including Kapp, MGM, Roulette, and Audiophile. In addition, Julius worked for many years at WNEW 1130 AM as a disc jockey, one of a daily rotating group of song spinners that brought the sound of standards to the masses, WNEW being the flagship station for "Sinatra fare" in the New York metropolitan area until it closed in 1992. He could later be heard on one of the radio successors, "Sunny 1430" WNSW Newark in the late 1990s to the early 2000s.
All through this time, LaRosa remained an active concert performer as well as notable television personality. Invited by his friend Jerry Lewis, LaRosa was a co-host for many years of Lewis' annual MDA Labor Day Telethon for Muscular Dystrophy, both serving as host of the New York installment of the telethon as well as appearing alongside Jerry in Las Vegas for some duet performances. He also appeared frequently on Public Broadcasting throughout the last three decades of his career, both as host and featured performer of a series of big band and jazz specials.
While you'll want to search out some of his 1960s albums for his most creative material ("Hey! Look Me Over" on MGM and "The New Julie LaRosa" on Kapp are standouts), one remarkable album of his that should be investigated by the reader is "It's A Wrap," recorded by Audiophile in 1984. Featuring liner notes by the incomparable Sammy Cahn and Julius joined by a sweet sextet led by the great Loonis McGlohon, you've never heard the lush combination of perfect pitch and sounding comfortably laid back done so well.
While serving as replacement for Perry Como, Julius made acquaintance with Como's secretary Rosemary. They would marry soon after, and today, LaRosa is survived by both her, his two children, and one grandchild.
In short terms, any LaRosa recording, like that of his inspiration, Sinatra, is recommended listening.
Until next time, Sinatra lovers!
Jerry Pearce is an amateur singer in the vein of Frank Sinatra, Perry Como, and Dick Haymes and has released two discs of standards music, Crossroads in 2010, and One Summer Night in 2016. Samples of his music can be heard on his YouTube Channel. To purchase his CDs use the form box below.
Comments or questions are welcome.