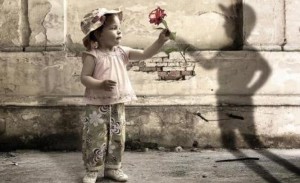 By Kristi O'Toole
Though I don't recall ever having an imaginary friend, I can't be positive that one never came to play during my childhood. For most kids an imaginary friend is as common as chicken pox. However, what if your child's new friend isn't so imaginary? Here are a few of the most terrifying stories of unimaginable friends.
Betsy:
This is the story of a young girl whose parents divorced; her mother left them and her father took to drinking heavily. This young lady spent a lot of time alone when she finally met a new friend named Betsy. She and Betsy would hang out together all the time; Betsy showed her a really cool tree fort she had built in the woods and some old ruined railroad tracks. The girls became so close that Betsy even had Thanksgiving dinner with the family over at an aunt's house one year.
One day the sad news came that Betsy was moving away. Well, as time does it healed the wounds of losing a best friend and this young lady moved on and grew up. Not too long ago, as an adult she and her father were talking and she happened to think about her friend Betsy and asked her father if he had remembered her. Her father laughed and told her how ridiculous that time had been with Betsy being imaginary and all.
The young lady became upset because her father was teasing her, she insisted Betsy was real. She had seen her just like she was seeing her father, and she had even been to Betsy's house and played in her bedroom! The young woman's father argued and insisted that Betsy had never existed, and instructed the young lady to phone her aunt and ask about her friend Betsy. When the call was made, the aunt stated it was very silly that the girl had brought an imaginary friend to Thanksgiving dinner. When the young lady asked her father about the times that Betsy had come to over to play, he explained that his daughter would just go to her room and talk to herself.
The following stories are first hand accounts that I came across in my research.
The Captain:
A parent of one of my students told us in a meeting that she was concerned because her son (7 years old) talked about an invisible ghost who would talk to him and play with him in his room. He said the ghost was called The Captain and was an old white guy with a beard. The kid would tell his mom that The Captain told him when he grows up his job will be to kill people, and The Captain would tell him who needed to be killed. The kid would cry and say he doesn't want to kill when he grows up, but The Captain tells him he doesn't have a choice and he'll get used to killing after a while. I was always creeped out working with that student after that.
Jessica:
A little after I was born, my sister Julia had an imaginary friend named Jessica. She was Julia's friend for a long time when things started to get a little weird. At first my parents shrugged it off as a normal occurrence, but after a while they began to believe that our house was haunted.
One night as my parents put me (about one years old) to sleep, I began to cry and point at the corner, my mom was still in there and began to try to comfort me, but I continued to cry and point at the same corner. All of a sudden, my sister walks into my room and points at the corner and yells "Jessica stop it"!
Immediately I stop crying and Julia says like it is completely normal that "Sometimes Jessica likes to put on scary masks and scare people". My mom who was understandably freaked out stammers to my sister "Tell Jessica that if she can't play nice, she can't play here at all".
A couple weeks go by and Julia tells my Mom that "Her eyes turn green when she is mad and her voice gets deeper". My Mom didn't know how to respond to this and just said "ok…." Eventually Julia outgrows her "imaginary" friend and stops playing with her.
A year and a half later my little sister Abbey begins to talk, she then goes on to tell us about her friend that no one else can see. She then tells my mom about how her eyes turn green when she is upset. She asked Abbey what her name was and she said "Jessica…"
Morrie:
Not a parent but I do have a story about my little cousin and his "imaginary" friend. First of let's get into details, my aunt and uncle had just moved into a new house in Orlando Florida and my cousin never spoke to this "imaginary" before they moved. Let's call my cousin K, I go to their house one day while on vacation because I live in New York and I'm pretty close to my little cousin because he used to live across the street from me and I treated him like my brother. He was about 6 years old when this happened and it still gives me chills. I'm sleeping at their house for like a week and I get this weird vibe coming from their place, the feeling of anxiety (I guess I could say anxiety I really don't have anything else to compare it to) would always be heightened at around 3 in the morning because I always woke up to my little cousin next to my bed in the attic (attic was remodeled and turned into a guest bed room) and he would always tell me about his friend Morrie.
Naturally I was freaked out by it, especially since it was always around the same time at night. On the fourth night I asked his parents about it and they told me they've never experienced anything like that with him and decided to ask him about it, he said he had no idea what they were talking about. Come the next night at 3 am I try to have a conversation with him and he keeps repeating 3 words, "Why'd you tell" over and over again until I tried to talk to him and he started telling me about how Morrie would appear in his dreams at night and eat dinner with the family when they were at the table.
I asked him how he got to meet Morrie and he told me that Morrie came up to him and asked him if he could come inside and he was always a very polite kid and he said yea sure come in; that's when Morrie started to talk to him and would be by his bedside at night talking to K.
K said he enjoyed morries company and it made him feel safe. I told his parents the next day and they got pretty scared; they thought I was making it up and didn't believe me.
The next and my final night there I heard some faint thumping under my bed and at this point I'm scared shitless but I grew balls and peeked under my bed to find my little cousin there and these are the last words I heard from him before I got the hell out of that house, "I'm protecting you from Morrie, he said he can't trust you and needs you gone. Morrie won't hurt me if I protect you."
I swear I ran faster than I ever have before and made it at least 3 blocks down before my aunt and uncle started chasing after me and told me to stop. They asked me what happened and didn't believe me because when we went back upstairs K was in his bed sound asleep. I went back home the next day.
-fast forward a few years-
I asked K if he remember any of this or of Morrie and he told me he had no idea what I was talking about and I left it at that. I have never told anyone else besides his parents about this until now.
Scotty:
Back in elementary school, had to be about age 6 or 7, I was close friends with this really socially awkward kid named Andrew who had just moved in from out of state. He used to sit alone (before My friend and I introduced ourselves) and just talk ever so quietly to himself' but he always appeared to be enraged during the "conversations" if you will. The first (and only) time that I actually went over to his house, I had my friend tag along and we were both going to be spending the night there. Well, the whole day went by and it was all good, it was pretty fun, Andrew seemed different at home (a bit more normal, comfortable). Well when we were going to sleep, I remember lying there in their basement/bedroom, Andrew was across the room on a couch, and my other buddy Ryan was asleep a few feet away from me on the floor.
Andrew started making these eerie noises, like a high pitch but mellow scream, almost like a steaming tea kettle, but then he sits up, and I can only see his outline with how dark it was, but he stands up, still letting this screeching noise out, and I just see his outline walking toward me, so I kick Ryan awake and he sits up, both of us just freaked out at this point.
Andrew walks until he's nearly stepping on us, and just sits down and slowly lets the screech die out. Ryan and I look at each other, not sure what to do, and Andrew just grabbed Ryan's arm, and then mine, and he was squeezing like he was trying to crush it, and in a disturbing low voice, he says, "Scotty wants you both to leave".
I rip my arm away and so does Ryan' and Andrew stands up again and just stood there laughing, super high pitched, staring at us. We both got up and I suggested going to Andrews mom's room to wake her the hell up. Before we even took a step Andrew just SCREAMS at the top of his lungs, literally horror movie shit. On hearing the scream, his mom comes sprinting through the house and down the stairs and turns all of the lights on. We couldn't tell in the dark, but Andrew like ripped his arms up with scratches' and he looked all around pale and just not right. His mom laid him in the ground and held him down and was trying to speak over his screams and she was saying things like, "Scotty isn't real Andy, you're okay" and she turns to us and tells us to head upstairs and put our coats on so she could take us home.
We didn't talk to Andrew at school for the next couple weeks, but when we asked him about it he said "it's Okay now you won't see Scotty anymore, no one will." needless to say that was the end of that, and we never talked to him again.
David:
My daughter isn't quite old enough for imaginary friends yet, so I have to tell the story my mom told me. I don't really remember any of it.
Just after my younger brother was born– as far as anyone knows anyway, I played by myself a lot as a kid– my imaginary friend showed up. I would strike up conversations/play trucks with/argue with him, you know, the kind of stuff kids do. One morning while I'm jabbering away on the kitchen floor, my mom asked who I was talking to. According to her, I was having a great time, talking and laughing up a storm.
I told her I was playing with David. Told her he looked just like me but wasn't me, and loved to cuddle me in bed at night. When mom asked where he was from, I told her he was from her belly too. That we used to play there together, but he'd gone away for a while after I was born, but he came back and it was great. You know, imaginary friend stuff. Nothing spectacular.
It wasn't until sophomore year of high school that I heard this story from my mom. My school gave us these things called progress reports, which showed our grades at the halfway point of the six weeks. They were mostly for our own knowledge, but my French teacher required us to take them home and get them signed by a parent.
In foreign language classes, you chose a different name to use in class. Mine was David. I was in the grade book as David Baseproduct. And when I brought home that first progress report, my mom started to cry. David was my stillborn twin brother, you see. Even after all those years she still hurt from his loss, and seeing his name so unexpectedly brought it all back.
Tony:
When my son was 4 years old, he would always ask "who is that girl down the hall?". This creeped my wife and I out because, there was never anyone down the hall. One day after he asked this, I asked him what the "girl" looked like.
My son answered, "she looks flat". A few months go by and only a couple of times does my son ask me about the girl. My wife and I blew it off until one day, curious about the girl, I asked him whatever happened to the "girl". He said "She's Tony's sister. He says hi."
My best friend when I was a kid was named Tony. I saw his little sister get run over by a car when I was about 6. Tony killed himself when he was 16. So after reading these, providing you take the stories as the truth, I'm adding sage to my tool belt. Come the day my child ever starts talking to an imaginary friend I'll smudge the hell out of our house!
Next time I'll discuss everyone's least favorite vacation destination, the Bermuda Triangle.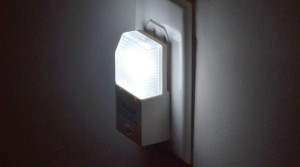 Until then leave the night light burning.
When Kristi isn't writing for NewzBreaker, she writes supernatural suspense novels having three currently published. If you would like to check out any of her books they can be found online and at other major retailers like Books a Million and Amazon. Never one to rest, she also paints/designs shoes and items for the home. Check out her eBay store, Watered Down Vodka and her FB page.
Comments or questions are welcome.