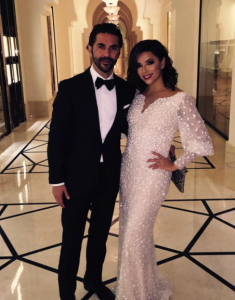 By Kristi O'Toole
Eva Longoria is still floating! "On cloud nine", the actress posted on her Instagram Sunday May 22, just one day after she and longtime love, Jose 'Pepe' Baston tied the knot in a star studded ceremony in Valle de Bravo, Mexico. "In our garden, surrounded by a small gathering of people we love, Pepe and I tied the knot!" the 41-year-old actress captioned a picture of the newlyweds' wedding bands and their name cards. Longoria and Baston, 47, exchanged vows at Baston's home in the presence of A-list friends including Ricky Martin, Victoria and David Beckham, Melanie Griffith, Vanessa Williams and Mario Lopez.
Wishing all the best to the happy couple! Hopefully Baston will keep Longoria from becoming a 'Desperate Housewife'.
When Kristi isn't writing for NewzBreaker, she writes supernatural suspense novels having three currently published. If you would like to check out any of her books they can be found online and at other major retailers like Books a Million and Amazon. Never one to rest, she also paints/designs shoes and items for the home. Check out her eBay store, Watered Down Vodka and her FB page.
Comments or questions are welcome.