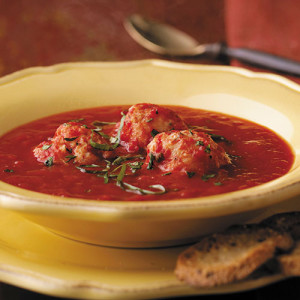 By Kristi O'Toole
The tender and delicate dumplings stand out in this simple soup.
Ingredients:
Soup
1 teaspoon olive oil
1 garlic clove, pressed
1 can (15 ounces) crushed tomatoes, undrained
1 1/2 cups chicken broth
1/4 cup snipped fresh basil
Dumplings
1/4 cup ricotta cheese
2 tablespoons (1⁄2 ounce) grated fresh Parmesan cheese
1 egg white, lightly beaten
1/2 teaspoon salt
1/4 teaspoon coarsely ground black pepper
1/3 cup all-purpose flour
Thinly sliced fresh basil
Directions:
For soup, combine oil and garlic in (3-qt.) Saucepan; cook and stir over medium heat 1-2 minutes or just until garlic begins to turn light golden brown. Immediately add tomatoes, chicken broth and basil. Bring to a boil. Reduce heat; simmer 5-7 minutes, stirring occasionally.
Meanwhile, for dumplings, combine ricotta cheese, Parmesan cheese, egg white, salt and black pepper in Small Batter Bowl; mix well. Add flour; stir just until combined. Using Small Scoop, scoop dumpling mixture directly into simmering soup. Cook until dumplings float to the surface, about 2 minutes. Remove from heat. Ladle soup into bowls; sprinkle with thinly sliced fresh basil.
Kristi stays busy with her writing, shoe designing and Pampered Chef business so she knows how precious time can be; she also knows how important eating healthy and showing your children life beyond fast food can be. The Pampered Chefs Happy Families segment is designed with busy lives in mind. The recipes presented will be fast, easy and affordable to everyone. The tools you need to complete these meals can be found on her personal website.
Comments or questions are welcome.