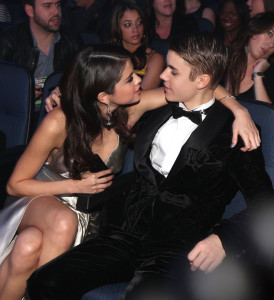 By Kristi O'Toole
Unless you live under a rock, at some point in recent times you've been made aware of the love roller coaster that pop stars Selena Gomez and Justin Bieber have been riding together. After a very public break up (well, the last one anyway), Bieber has been linked to several young ladies, including one he 'stalked' on Instagram … who could have been Gomez's stunt double by the way. While Gomez has juggled a few new beau's as well, most recently including Katy Perry's boyfriend, Orlando Bloom.
After an intense makeout session with Bloom, one would assume they're now an item. One would be wrong. Bloom and Perry are currently vacationing together getting their groove thang on.
With a rumor that Bieber was going to 'surprise' Gomez on stage- not much of a surprise if the whole of the internet knows about it- a fan flashed a homemade sign that read, "Marry Justin Please" at the pop star.
To which Gomez responded by taking the sign and tearing it to shreds on stage. Along with the fans heart I imagine.
Now I'm no relationship expert, but I'm pretty sure Gomez isn't going to say 'yes'. Quite frankly I think she'd be better off without the Biebs and take her actions as a statement that she's wanting to become someone other than the girl that used to date Justin Bieber.
When Kristi isn't writing for NewzBreaker, she writes supernatural suspense novels having three currently published. If you would like to check out any of her books they can be found online and at other major retailers like Books a Million and Amazon. Never one to rest, she also paints/designs shoes and items for the home. Check out her eBay store, Watered Down Vodka and her FB page.
Comments or questions are welcome.