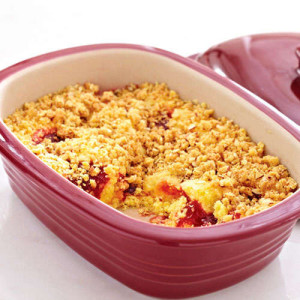 By Kristi O'Toole
Ingredients:
1/2 cup (125 mL) sliced almonds
1 pkg (18.25 oz or 510 g) yellow cake mix, divided
1/2 cup (125 mL) butter (1 stick), melted and divided
1 lemon
1 container (8 oz or 250 mL) sour cream
1 egg
1 can (12 oz) cherry cake and pastry filling (see Cook's Tip)
Vanilla ice cream (optional)
Directions:
For crumb topping, coarsely chop almonds using Food Chopper. Combine almonds, 1 cup (250 mL) of the cake mix (see step by step photo, right) and 3 tbsp (45 mL) of the butter in Deep Covered Baker; mix until moistened. Microwave, uncovered, on HIGH 2–4 minutes or until beginning to brown, stirring once every minute. Spread crumb topping over Parchment Paper to cool. Wipe out any remaining crumbs from baker.
Zest lemon using Microplane® Adjustable Fine Grater to measure 1 tbsp (15 mL). Juice lemon using Juicer to measure 1/4 cup (50 mL). Combine remaining cake mix, zest, juice, sour cream, egg and remaining 5 tbsp (75 mL) butter in Classic Batter Bowl; mix until smooth. Pour cake batter into baker, spreading to edges. Using Small Scoop, scoop pastry filling evenly over batter. Microwave, covered, on HIGH 8–10 minutes or until center of cake springs back when lightly pressed.
Carefully remove baker from microwave using Silicone Oven Mitts. Sprinkle crumb topping over cake; let stand, uncovered, 5 minutes. Serve warm with ice cream, if desired.
Kristi stays busy with her writing, shoe designing and Pampered Chef business so she knows how precious time can be; she also knows how important eating healthy and showing your children life beyond fast food can be. The Pampered Chefs Happy Families segment is designed with busy lives in mind. The recipes presented will be fast, easy and affordable to everyone. The tools you need to complete these meals can be found on her personal website.
Comments or questions are welcome.