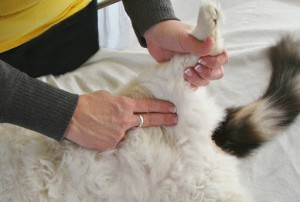 By Delsie Lewis
Cat CPR (cardio pulmonary resuscitation) can be performed on your cat. If you see any of these signs with your cat get them to your veterinarian immediately: Difficulty breathing, weakness or lethargy, unconscious, any sudden onset of illness or severe injury or trauma
Here are some vital signs you can check to help you decide if CPR is necessary:
Check breathing – Watch for movement of the chest, or feel for it with your hand.
Put your hand in front of your cat's nose to feel his breath, check the color of his gums, check for a pulse on the inside of the thigh, near where the leg meets the body. If your cat has a pulse but is not breathing you can perform artificial respiration's only by closing your cats mouth, taking a deep breath and blowing it into your cat's nose. If your cat is experiencing any of the signs, start CPR immediately.
Lay your cat on his right side on a flat surface.
Place your thumb and fingers from one hand on either side of his chest behind his elbows and give a quick squeeze to compress the chest to about 1/2 of its normal thickness. Compress the chest about 15 times every 10 seconds; give a breath about every 10 compressions. If possible, perform the following steps en route to your veterinarian.
Check out Fur Babies website and their Facebook Page Fur Babies Adoptions and Rescue.
Comments or questions are welcome.