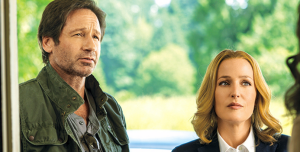 By Kristi O'Toole
It's official! Fox and Chris Carter are going to make another season of The X-Files. OMG! Fan girl squeal… I've died I tell you! From the day this show premiered I have been a huge fan. When I heard of the six show miniseries they were putting out my head nearly exploded. Of course I sat glued to the boob tube like any obsessive and shameless fan would, for five of the six episodes anyway. That's right, I still haven't watched the last episode as I can't bear to see it end…again. But now, yes now I have the strength to press play on my DVR and watch the not so final finale.

The studio made the announcement during a recent press call. According to Fox TV Group chairpersons Dana Walden and Gary Newman (via Deadline), all the cast and crew of from previous episodes are up for another installment of the hit show. They stated: We have had conversations with (creator) Chris Carter and (stars) David Duchovny and Gillian Anderson. I believe everyone is on board to do another installment of the show.
As of this writing, the people involved in the last season are busy working on their own projects, but Walden says she's hoping for the best that an announcement will be made by next year. Walden stated: Hopefully this season we will be able to get it done and that the same time next year (May), we will have something to announce. Meanwhile, Newman revealed that the studio is currently discussing plans about the order of the upcoming episodes with Carter, Duchovny, and Anderson.
He explained: Conversations are ongoing. I can tell you that all of them would like to do more of these, and certainly the network and studio want to do more.
This news isn't really surprising considering fans' positive reception of the last season. This is certainly good news. More than anything, we'd like to see Agents Mulder and Scully back on the big screen. The timeline looks reasonable as well. Since the next official announcement for the new season won't be until next year, it appears that the studio and the show's main cast and crew are biding their time. You can't really rush quality storylines and fortunately, we can expect nothing less of Carter, Duchovny, and Anderson.
The next X-Files season is expected to be released around 2017 to 2018.
*Sigh*… my life is complete.
When Kristi isn't writing for NewzBreaker, she writes supernatural suspense novels having three currently published. If you would like to check out any of her books they can be found online and at other major retailers like Books a Million and Amazon. Never one to rest, she also paints/designs shoes and items for the home. Check out her eBay store, Watered Down Vodka and her FB page.
Comments or questions are welcome.