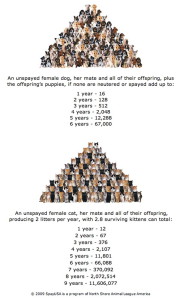 By Delsie Lewis
Puppy and kitten season is upon us; unwanted litters are showing up everywhere. Why when you can get your cat spayed or neutered for $30.00? Your male dog can be neutered for $35.00 and female dog spayed for $40.00 at the Checotah spay/neuter clinic on any given Thursday, no appointment necessary, just get there before 8:00 a.m. The address of the Checotah Shelter is 2282 N. Broadway St. Checotah, OK. 74426, 918-473-0017.
If you live in the Tulsa metro area there is Spay Oklahoma, INC. They have 2 clinics available to you one in Tulsa and one in Bixby. Their prices are very reasonable. Dogs $45, Cats $35, Puppies $35.00 Kittens $25.00 (puppies and kittens are under 5 months old) and a sliding scale is available if your income is below $25,000. You can make an appointment online at http://www.spayok.org In Tulsa call 918-728-3144 and in Bixby call 918-970-4222.
Many cats can be spayed or neutered and returned to their habitat and do very well. They will be tattooed or ears clipped to show they have been spayed. All cats and dogs live much longer if they are sterilized, not to mention the shelter populations of homeless pets drops dramatically and euthanasia rates drop as well.
Check out Fur Babies website and their Facebook Page Fur Babies Adoptions and Rescue.
Comments or questions are welcome.