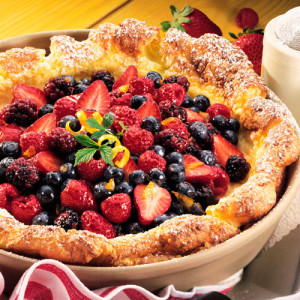 By Kristi O'Toole
This oven baked pancake gets its puffiness from the steam produced as the batter bakes. The fresh berry topping finishes this impressive breakfast delight.
Ingredients:
Berry Topping
3 cups (any combination) fresh berries such as raspberries, blueberries, blackberries or sliced hulled strawberries
1/3 cup orange marmalade
Pancake
3 tablespoons butter or margarine, melted, divided
1 cup milk
6 eggs
1 cup all-purpose flour
1/2 teaspoon salt
2 tablespoons powdered sugar
Directions:
Preheat oven to 450°F. For berry topping, gently stir together berries and marmalade in SMALL BATTER BOWL; set aside. For pancake, use CHEF'S SILICONE BASTING BRUSH to coat DEEP DISH BAKER with 1 tablespoon of the butter. In CLASSIC BATTER BOWL, combine milk, eggs and remaining 2 tablespoons butter using STAINLESS WHISK. Slowly whisk in combined flour and salt until egg mixture is smooth. Pour batter into Baker. Bake 13 minutes. Reduce oven temperature to 350°F and continue baking 15-17 minutes or until sides are crisp and golden brown. Remove pancake from oven; immediately sprinkle with powdered sugar using FLOUR/SUGAR SHAKER. Fill center with berry topping. Cut into wedges using NYLON SLICE AND SERVE®. Serve immediately.
Kristi stays busy with her writing, shoe designing and Pampered Chef business so she knows how precious time can be; she also knows how important eating healthy and showing your children life beyond fast food can be. The Pampered Chefs Happy Families segment is designed with busy lives in mind. The recipes presented will be fast, easy and affordable to everyone. The tools you need to complete these meals can be found on her personal website.
Comments or questions are welcome.