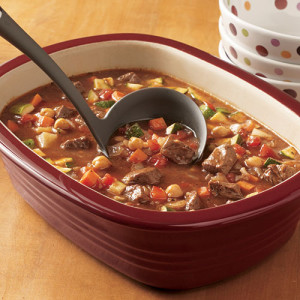 By Kristi O'Toole
Hearty yet easy; an amazing meal in 10 minutes! Pair it with fresh bread and you're on your way.
Ingredients:
1 medium onion
1 large russet potato, peeled
2 medium carrots, peeled
1 lb boneless top sirloin steak, about ¾ in. thick
1 tbsp vegetable oil
1 tsp salt
1/2 tsp coarsely ground black pepper
3 tbsp Moroccan Rub, divided
1 can (14.5 oz) beef broth
2 tbsp cornstarch
3 garlic cloves, pressed
1 can (15 oz) garbanzo beans, drained and rinsed
1 can (14.5 oz) petite diced tomatoes with garlic and onion, undrained
1 medium zucchini
Directions:
1)Coarsely chop onion using Food Chopper (#2585 $34). Dice potato and carrots using Santoku Knife (#1079 $53); set aside. Cut steak into ¾-in. cubes. Combine steak, oil, salt, black pepper and 1 tbsp of the rub in Deep Covered Baker (#1321 $89); stir. Microwave, covered, on HIGH 5-7 minutes or until steak is still slightly pink. Remove steak from baker; keep warm. (Do not drain baker.)
2)Meanwhile, whisk together broth, remaining rub, cornstarch and pressed garlic in baker. Add beans, tomatoes, onion, potato and carrots. Microwave, covered, on HIGH 18-21 minutes or until vegetables are tender, stirring once. Meanwhile, dice zucchini. Add zucchini and steak to baker; stir. Microwave, covered, on HIGH 3-4 minutes or until zucchini is tender.
Kristi stays busy with her writing, shoe designing and Pampered Chef business so she knows how precious time can be; she also knows how important eating healthy and showing your children life beyond fast food can be. The Pampered Chefs Happy Families segment is designed with busy lives in mind. The recipes presented will be fast, easy and affordable to everyone. The tools you need to complete these meals can be found on her personal website.
Comments or questions are welcome.