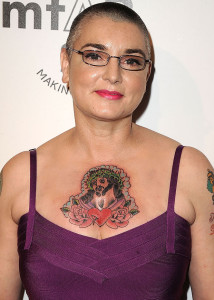 By Kristi O'Toole
Irish singer Sinead O'Connor was reported missing Monday a day after she went on a bike ride in the posh Chicago suburb of Wilmette and did not return. O'Connor, 49, was last seen around 6 a.m. Sunday, police said.
"A caller has expressed concern for her well-being," the Wilmette Police Department news release said.
It was not immediately clear what O'Connor was doing in Wilmette, a wealthy North Shore suburb.Best known for her cover of the Prince song "Nothing Compares 2 U," O'Connor was in the news earlier this month after Arsenio Hall sued her for defamation. Hall sued after O'Connor claimed the former late-night talk show host plied Prince with drugs over decades.
O'Connor has been treated for mental health issues. On Nov. 29, she gave her fans a scare after posting an apparent suicide threat on threat on Facebook in which she claimed to have taken an overdose of some substance because of a "horrifying set of betrayals."
"There is only so much any woman can be expected to bear," the post read, according to Billboard and other publications. "I've taken an overdose. There is no other way to get respect."
When Kristi isn't writing for NewzBreaker, she writes supernatural suspense novels having three currently published. If you would like to check out any of her books they can be found online and at other major retailers like Books a Million and Amazon. Never one to rest, she also paints/designs shoes and items for the home. Check out her eBay store, Watered Down Vodka and her FB page.
Comments or questions are welcome.